There is little doubt that you've surely heard the good news! New Zealand's second travel bubble has officially opened, this time with the gorgeous Cook Islands. But if you haven't already booked your tickets (seriously, the flight time from Auckland to Rarotonga is only three and a half hours), or maybe aren't quite sure where to go on this island paradise, you've come to the right place. 
Cheap and cheerful getaways? Tick. Fun for the whole family, loved-up couples and adventure seekers? Tick, tick and tick. Oh, and what about cultural experiences and wildlife encounters? Tick and tick. With 15 islands making up the Cook Islands, there really is something for everyone to enjoy in the Cook Islands. So which island is best for you? Ahead we give you the low down on which Cook Islands destination is best suited for your travel style. And if you're still unsure of which to visit? Well, you may just have to visit more than one…
The Best Destination For Romance
Picture this: you're strolling along a secluded, palm-fringed beach, hand-in-hand with your significant other. The only thing on your holiday itinerary is a daily massage, and the hardest decision you'll have to make is what cocktail to order at sunset sips. Now if that doesn't sound like the very definition of a blissed-out romantic getaway, we don't know what is – and you can experience it all and more on Aitutaki.
The second-most visited island after Rarotonga, Aitutaki has a population of just under 2,000 people, making it feel as though you've stumbled upon your very own personal slice of heaven. It's where you'll find the breathtaking, world-famous Aitutaki Lagoon (the water is so brilliantly blue it needs to be seen to be believed) and the country's only overwater bungalows. There are plenty of excursions to indulge in, of course – think snorkelling tours, gourmet picnics and sailing trips – but the laid-back vibes and balmy weather really do encourage you to just slow down and enjoy the time with your partner. Visit in January or February to make the most of the extra long days. 
The Best Destination For Families
Considering the notion of family togetherness is so heavily ingrained within the Cook Islands' culture, it should come as no surprise to discover just how kid-friendly this tropical archipelago really is.
Being the largest and most easily accessible island, it makes sense to base your brood in Rarotonga. There are water activities galore to try out, including kayaking, swimming, stand-up paddleboarding and fishing, and there are even two mini-golf courses. The local markets are great for a cheap meal and some free entertainment, and you can pick up a couple of cute souvenirs as well. In terms of family accommodation, in Rarotonga you're spoiled for choice, with everything from fancy five-star resorts (complete with kids clubs!) to basic villas available for booking. School holidays are obviously a more expensive time to visit, so try and organise your stay during the shoulder seasons of April and May or September and October, to save a bit of money.
The Best Destination For Adventure
Sure, lazing in a hammock under a palm tree is one of the most enjoyable things you can do in the Cook Islands, but if you dig a little deeper you'll find that thrills and spills await around every corner. Rarotonga is a hotbed of heart-pumping adventures, including an impressive network of walking trails. Discover the island's mountainous interior on the 3.1-kilometre Raemaru Trek, or march to the highest point on the island when you hike to The Needle (Te Rua Manga). You can go 4WDing, quad biking and scuba diving, or you could even give kitesurfing a go. The lagoons of Rarotonga and Aitutaki are ideal places to master the art of aerial acrobatics, especially during the trade wind season of May to October.
For something a little more off the beaten track, head to Atiu. The country's third-largest island remains virtually untouched by modern society, and boasts a series of limestone caves that are just begging to be explored. The caves come dripping with stalactites and stalagmites, and some feature swimming holes while others double as ancient burial sites.
The Best Destination For Nature
Despite being home to just a handful of endemic species, the Cook Islands lack nothing in the wildlife department. From July to October you can spot migrating humpback whales as they make their annual passing of the islands. The whales swim so close to the shore that you don't even need to be out on a boat to see them – in fact; some of the best vantage points are on the western side of Rarotonga, where they feed near the fringing reefs. And don't forget that those same reefs are a marine wonderland where you can come face to fin with turtles, dolphins, sharks, manta rays and colourful schools of tropical fish.
On Atiu, also known as Enuamanu (which literally means Island of Birds), the birdlife is abundant. You'll find many rare feathered creatures here, including the kopeka, which lives deep in the caves and uses sonar just like a bat to navigate through the darkness, and the endangered kakerori. Keep an eye out for great frigates, kuras and blue kingfishers, too.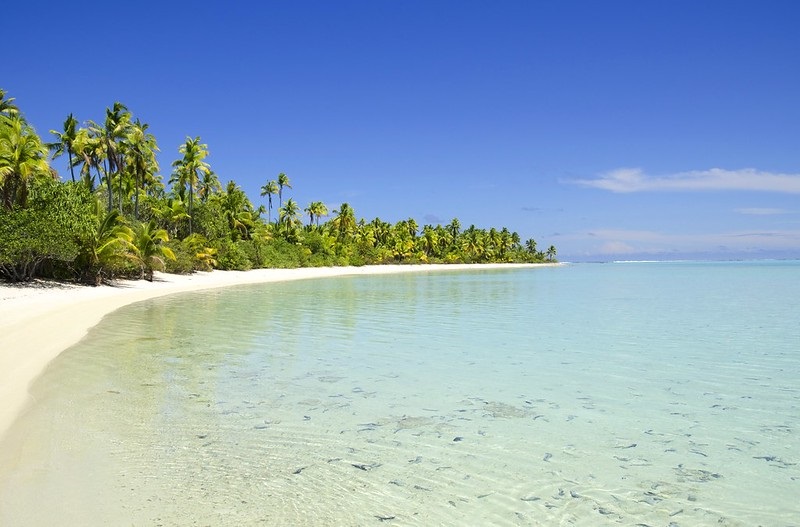 The Best Destination For A Cheap Getaway
Don't let the swanky Cook Islands resorts with their complimentary welcome cocktails, all-inclusive deals and private transfers fool you, this is still a destination you can do on a budget – you just need to know a couple of tips for keeping the cost down. First up: flights. While the best time to go to Rarotonga is often considered the months of June, July and August (who doesn't want to escape the NZ winter chill?), that's when prices tend to be higher. Thankfully however, the Cook Islands are spectacular all year round. You can score affordable flights during the rainy season (December to April), and the worst you'll likely have to put up with is a storm or two. Not a bad trade-off if you're keen to have some extra spending money in your hip-pocket.
You can also save a buck by booking accommodation with kitchen facilities, so that you can prepare meals using fresh produce bought from the local markets. And as much as it sounds like a lot of fun to give every activity possible a crack, things like sea scooter tours and all-day fishing trips don't come cheap. So pick one or two awesome experiences, and then go soak up the sun on the beach for free.
The Best Destination For Cultural Experiences
Cook Islanders are warm, open people who love nothing more than sharing their culture with visitors, and there are a number of ways you can gain a better understanding of the traditions that have shaped this island nation. Cultural centres on both Rarotonga and Aitutaki host 'Island Nights', which offer a wonderful introduction to Polynesian customs via a dazzling showcase of music, dance, song and food. For something completely different you can attend a Sunday morning church service on any island, and listen to the congregation sing beautiful hymns or admire the stunning hats of the parishioners.
For a taste of the real Cook Islands though, head to the outer atolls of Mangaia, Mauke and Mitiaro – where the population on each is barely 300 people – and immerse yourself in the local community. That's about as authentic an experience as you can get here, and you'll be welcomed into the fold as one of their own. 
Keen to see the Cook Islands for yourself? Book flights to the Cook Islands with Webjet and make the most of the NZ-Cook Islands travel bubble. You can combine your airfare with accommodation to create a Cook Islands holiday package too – an unbeatable option if you want to save money on your next holiday!
Hero: Aitutaki, Cook Islands. Photo by Christoph Burgdorfer on Unsplash