Sure, the ski fields of Canada, France, and Japan make for an appealing winter getaway, but here in New Zealand are some of the best slopes you will find anywhere in the world. New Zealand is home to numerous world-class ski resorts, with the South Island alone boasting three main ski areas, each offering different types of terrain. The question then becomes, which hill is right for you? To help you decide, we've compiled this guide to the South Island ski season so you can start planning your ideal New Zealand ski holidays.
When to Go
New Zealand is an appealing winter destination for many avid skiers and snowboarders because it is one of the few places in the world where you can hit the slopes during the Northern Hemisphere's summer. As such, from early June to late October, the South Island ski fields are flooded with travellers from Europe, Asia and North America who are chasing a winter wonderland.
The best time to visit is between July and September, but keep in mind that school holidays take place in July. If you have little ones, there are some fantastic kids' programs on offer at this time, which can make it the perfect opportunity for family travel. However, the ski fields will naturally be a lot busier during this period, so if you're after a little solitude on the slopes, best plan your trip for September, which lies towards the end of the ski season. However, if you're looking to enjoy for the very best snow New Zealand has to offer, August promises an ample supply of fresh powder. Whichever month you choose, be sure to book your ski resort accommodation well in advance.
Where to Go
Now that you when to go, it's time to decide where to ski in New Zealand. As mentioned, there are three main ski areas in the South Island: Queenstown and Wanaka in the south and the Canterbury/Christchurch region in the north. Each offers a selection of ski resorts, with some slopes well suited to beginners while others are certainly not for the faint hearted.
Queenstown
While Queenstown is world-renowned for its adventure tourism in the summer, without a doubt the Queenstown ski season is one of New Zealand's most revered. The Remarkables provides skiers with narrow chutes and off-piste powder, as well as three wide open bowls that will appeal to those eager to get off the beaten track. The mountain also boasts three terrain parks, making it a natural choice for adrenaline junkies.
Coronet Peak is one of the best all-round mountains, offering terrain for both families and more advanced adventurers. This hill is also preferred by night owls, as it offers night skiing for those wanting to shred some powder under the stars.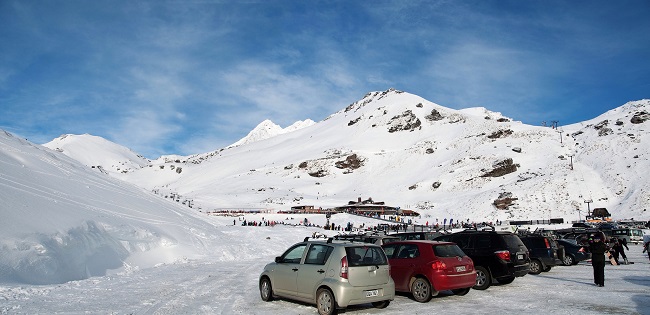 Wanaka
This picturesque ski town is located just down the road from Queenstown, but tends to attract a slightly different crowd. While Queenstown is known for its incredible apres scene and therefore attracts travellers looking to party into the evening, Wanaka offers a bit more a refined atmosphere, and as such is more popular with families and those seeking a quieter place with a more personal feel.
There are two main resorts accessible from Wanaka. Cardrona is a great destination for kids and beginners, owing to its learner-friendly slopes and fantastic childcare facilities and kids' centres. Treble Cone, on the other hand, is the island's largest ski area, and is a favoured destination among more advanced skiers and boarders. Here, you can find the longest vertical rise in the Southern Lakes, 4-kilometre intermediate runs, and double black diamond chutes. As an added bonus, you'll also find some spectacular views of Lake Wanaka and Mt Aspiring here, making for one glorious day out.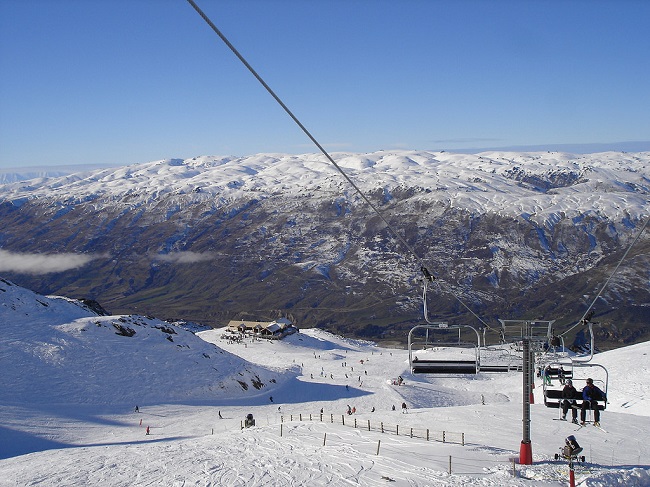 Canterbury/Christchurch
The Canterbury region near Christchurch offers a handful of ski resorts well worth exploring. One of the most famous hills is Mt Hutt, often called the "Capital of Speed" thanks to the fact it regularly hosts racing events. As such, it's best left to the more experienced skiers and boarders.
On the other hand, the Porters ski area makes a bit more room for beginners, and as the closest resort to Christchurch, is perfect for a day trip. The Craigieburn Valley also provides beginners with ample terrain, but with its steep chutes and soft powder bowls, only advanced skiers will be able to take advantage of the off-piste slopes and nerve-wracking drops that make this area so wonderful.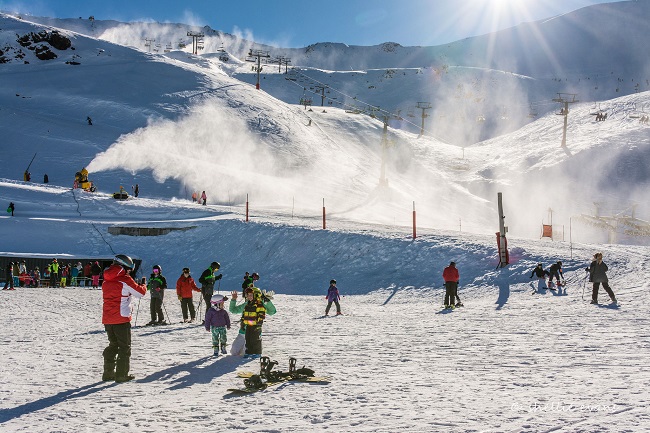 No matter if you're a novice ski bunny or an advanced powder hound, there's something for every type of skier and snowboarder in the South Island. But winter in New Zealand offers so much more than just perfect powder: alpine hot springs, helicopter flights to glaciers, and snowshoeing romps into the wild are just some of the adventures waiting to be had. And did we mention the apres scene? Whatever your style, you'll find the perfect winter wonderland in New Zealand's South Island. Book flights to Queenstown or Christchurch now to lock in your next New Zealand ski holidays. 
Feature image: The Remarkables. Credit: Bernard Spragg / CC0 1.0