There's a reason Queenstown sits near the top of many must-visit lists for travellers around the world. The proclaimed 'Adventure Capital of the World' is jam-packed with amazing things to do, from jet boating and bungy jumping, to hot pools and hiking. To make Queenstown an even better destination to get away to, this New Zealand hotspot is also a gateway to discovering more of regions further afield.
Queenstown presents plenty of opportunities for day trips and excursions, meaning you can discover other South Island gems and be back in time to order your favourite Fergburger for dinner.
Here are some of the best Queenstown day trips for you to check out next time you venture to this lakeside resort town.
Queenstown to Wanaka
Distance: 1 hours' drive
A day trip from Queenstown to Wanaka offers a great snapshot of what makes New Zealand so awesome. Wanaka is located a short drive northeast of Queenstown and, like its neighbour, is home to a collection of outstanding outdoor activities.
Much like other day trips from Queenstown, this journey can be just as rewarding as the destination. The route that takes you along Crown Range Drive is the best option, especially if the weather is nice. Do take care if the road is wet though, as there are a few tight turns along the way.
Once you arrive in Wanaka, you'll have another spectacular collection of outdoor activities to choose from. Mount Iron and Diamond Lake are standout walk options, but the track up Roys Peak is the pick of them all. It's a tough uphill trail that is one of the most challenging in the region, but if you're up for the hike you will be greeted with an amazing outlook across Lake Wanaka, Mount Aspiring and the Matukituki Valley. As a reward for your hard work, pay the nearby Cardrona Hotel a visit on your way back for a cold drink and bite to eat in one of the most iconic and most photographed, buildings in New Zealand. Other things to do in Wanaka include rock climbing, farm tours at Criffel Station, or wandering the stalls at the Wanaka Artisan Market, which is held every Thursday afternoon and evening, from 2pm to 6pm.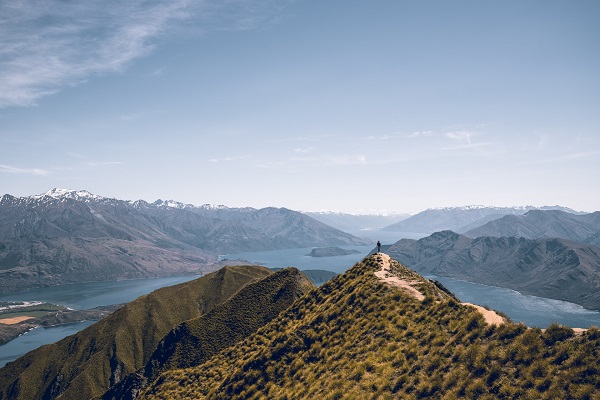 Queenstown to Glenorchy
Distance: 45 minutes' drive
This day trip gives you a chance to enjoy beautiful Lake Wakatipu without getting wet. You'll hug the east coast of the lake on this short drive, following the route up north to Glenorchy. This is an easier drive than the one to Wanaka, but provides just as much scenery no matter what time of year you hit the road. Expect outlooks across the spectacular Lake Wakatipu, which is bordered by the towering Mount Crichton and Tooth Peaks.
Glenorchy itself may not carry the same international renown as Queenstown, but, as with many South Island destinations, it is home to a range of activities that will have outdoor enthusiasts eager to visit. Tear your attention away from just looking at Lake Wakatipu and get out onto the water by kayaking or jet boating. Unleash your inner Hobbit and explore sites used in filming the Lord of the Rings series, either by yourself or with the help of a tour guide. You might also simply set off on one of the amazing hiking trails that start out from the town. Conquer a couple of the shorter paths – Diamond Creek and Double Barrel Creek take less than one hour, round trip – or tackle the Glenorchy Burn, which can take up to six hours return. The epic Routeburn Track also leaves from Glenorchy, however this world-famous summit walk is a one-way route and usually takes several days to complete so transport will need to be arranged to pick you up at your end point if you would like to experience some of it.
Queenstown to Milford Sound
Distance: 4 hours' drive
It's hard to go past day trips from Queenstown to Milford Sound – this fjord is the most popular things to see for visitors coming to Central Otago. The drive from town to Milford Sound (located within Fiordland National Park) ranks near the top of any list of the best South Island road trips, and it generally takes between 3-and-a-half to 4 hours each way. Those not wanting to make the drive themselves can look into any of the great Queentsown to Milford Sound day trip tours that operate out of town. These tours often include round-trip bus transportation and tickets for unmissable Milford Sound cruises.
If you do make the drive yourself you'll see some of the most stunning sights the country has to offer, with everything from expansive mountains and valleys, to glassy lakes and rolling green meadows just beyond your car window. There are plenty of day walks around Milford Sound and throughout the wider national park, and other experiences at NZ's top tourist attraction include kayaking, fishing and sailing. There is also an observatory where you can get a peek into life within the fjord's famed waters. Plus, Milford Sound isn't the only fjord to see: Doubtful and Dusky Sounds are also located in the park.
Queenstown to Alexandra
Distance: 1 hour 20 minutes' drive
Central Otago is home to dozens of amazing wineries, with six sub regions (the Cromwell Basin, Bendigo, Bannockburn, Gibbston, Alexandra and Wanaka) producing pristine pinot noirs and other acclaimed varietals. All of these sub regions are worthy of a visit, and Alexandra is a great central starting point for seeing and experiencing as much as you can.
The man credited with starting the region's wine industry, John Feraud, first planted in Alexandra in 1864. The spoils of the Frenchman's work live on in the form of a range of tasting rooms and cellar doors, including actor Sam Neill's Two Paddocks, as well as Three Miners and Shaky Bridge.
There's also plenty of fun to be had in Gibbston, which is closer to Queenstown than Alexandra for those who don't want move quite so far. Rent a bike and travel on two wheels along the Gibbston River Trail, which connects plenty of great cellar doors and tasting rooms.
When you're ready to head to Queenstown on your next getaway, you can find flights, accommodation and even car hire with Webjet.
Hero image: Milford Sound. Credit: Geoff Byron on Unsplash