Quaint, green, and gorgeous, Dunedin is the star of New Zealand's southern coast. The city is known as the Edinburgh of New Zealand, and it's not hard to see why; boasting dramatic hills, a picturesque harbour, and some of the best-preserved Victorian and Edwardian architecture in the Southern Hemisphere, Dunedin is an exciting NZ city with a proud Scottish heritage. Only have a couple of days to experience all this city has to offer? Here are our tips for what to do in Dunedin over one action-packed weekend.
What to Do
There's no shortage of things to do in Dunedin – the real question is, where to start? If you're looking for free stuff to do in Dunedin, be sure to check out the Otago Museum. This beautiful museum has been operating for 150 years, and features seven galleries and more than 1.5 million objects, all telling stories from the Otago region and further afield. The Dunedin Street Art trail is another worthwhile attraction that won't cost you a cent, as you meander down streets looking at incredible commissioned street art from local and international artists.
The areas surrounding Dunedin are just as impressive as the city itself and deserve to be explored. The Taieri Gorge Railway train journey is a scenic, four-hour railway trip that takes you through some truly stunning landscapes, with entertaining commentary provided along the way. You'll also want to head out east of Dunedin to the Otago Peninsula, which has been nicknamed the wildlife capital of New Zealand and is a great place to spy royal albatross, fur seals, sea lions, dolphins, and the world's smallest penguins. Head out to Weller's Rock and jump on-board the MV Monarch for a wildlife cruise out into the Southern Ocean, then afterwards, head to the Royal Albatross Centre on the tip of the Otago Peninsula at Taiaroa Head to see the breeding colonies of these giant birds.
Back closer into town, warm days can coincide with a trip to St Clair beach. There are many lovely cafes along the esplanade to enjoy some afternoon tea, but if the mercury is particular high that day, cool off with a refreshing swim. You should also check out Baldwin Street, which is officially recognised by the Guinness Book of World Records as the world's steepest road. Or, if you're in the mood to stretch your legs, hike on up Signal Hill, where you will be rewarded with amazing views of the city.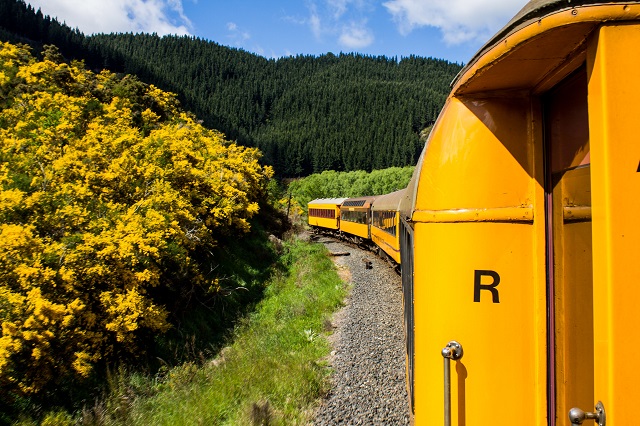 What to See
Dunedin is bursting at the seams with Instagrammable architecture. The Dunedin Railway Station, for example, is known as the world's grandest gingerbread house, with this Flemish Renaissance-style building dating back to 1906. Then there's Olveston Historic Home, which is one of New Zealand's finest historic residences and today stands as a wonderful time capsule from the early 1900s. Other things to see in Dunedin include St Paul's Cathedral, Dunedin Law Courts, and Dunedin Prison, while a 20-minute drive out of town will get you to New Zealand's only castle, Larnach Castle, which is famous for its scandalous history.
This southern city is also a great place to enjoy some natural wonders, with Dunedin one of the best places to witness the Southern Lights, also known as Aurora Australis. When the sky is dark and clear, head out to one of the beaches around Dunedin and the Otago Peninsula – such as Sandfly Bay, Hoopers Inlet, or the Second Beach in St Clair – which are well-known for offering the best views of this breathtaking phenomenon.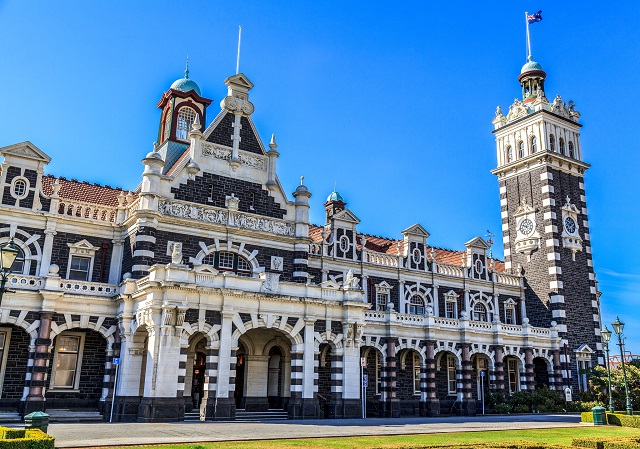 Where to Eat
Eating and drinking are Dunedin's top attractions. There are so many unique and exciting eateries to try, with award-winning restaurants serving up NZ steak and lamb, local seafood, regional delicacies, and international flavours. The city centre is known as the Octagon and offers lots of brilliant restaurants and cafes for breakfast, lunch, and dinner, so grabbing a table here or anywhere in the vicinity is guaranteed to delight. And be sure to keep your eye out for local ingredients wherever you can – there is so much tasty food being grown, harvested, made, and served in Dunedin, it would be a shame to miss out on some truly exceptional produce.
You can't visit Dunedin without joining an afternoon tour of its highly awarded and hugely popular microbrewery, Emerson's Brewery. Since opening in 1992, this brewery has produced a range of unique beers and it has an impressive restaurant menu to pair with your pint. And because one brewery is never enough, head on over to Speight's, which has been producing quality brews since 1876.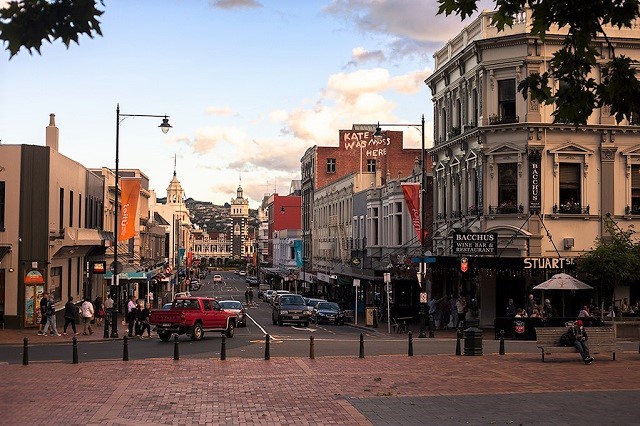 Feature image: Dunedin Railway Station. Credit: Stephen Murphy | CC BY-NC-ND 2.0