Trying to compile a list of the best beaches in Queensland is like being asked to rank your favourite block of Whittakers – near impossible, because all are unique in their own special way. For the sake of providing sandy inspiration for your next trip across the Tasman however, we've scoured the 7,000 kilometres of Queensland coastline to find the ones with the bluest water, the softest sand and the most epic waves. Among these stretches are also beaches that both kids and pooches can enjoy – especially apt for those who want to bring Fido along on their next holiday to Australia. All you need to worry about is packing the hats, rashvests and sunscreen.
So where are the best beaches in Queensland? Well, you'll just have to read on to find out.
Nudey Beach
Now before you start worrying about having to get your gear off, Nudey Beach is not, as the name suggests, a nudist commune. However with its powder-soft sand, granite boulders and warm aqua waters, it is considered one of the best North Queensland beaches around. Situated on Fitzroy Island, about a 30-minute boat ride from Cairns, you just need to walk a short distance through the rainforest to reach this tropical oasis. It also happens to be surrounded by a glorious, fish-filled reef, so don't forget your snorkelling gear.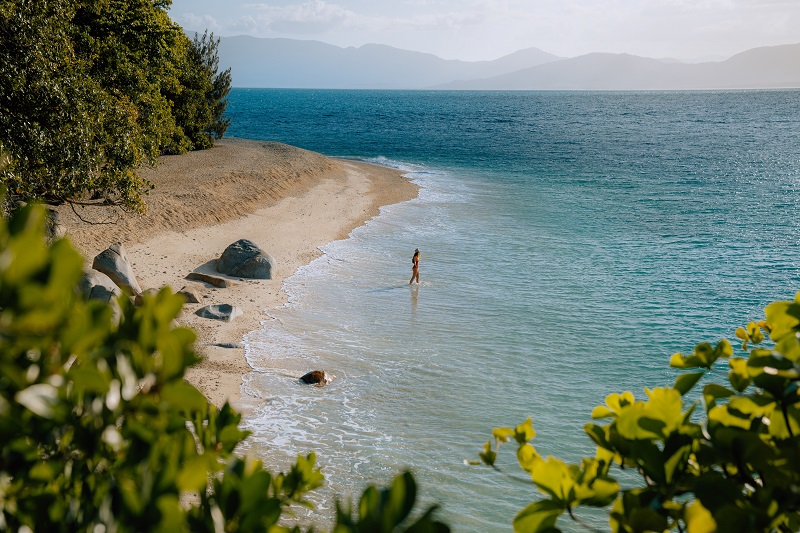 Casuarina Beach
As far as true-blue Aussie experiences go, it doesn't get much more iconic than seeing a mob of wallabies and kangaroos down on the beach. Sunrise at Casuarina Beach, in the Mackay region's Cape Hillsborough National Park, is where you can witness this incredible animal encounter, as every morning the cute marsupials head down to the shore to feast on the mangrove seed pods and seaweed that has washed up overnight. You can't get too close, of course, but if you bring your camera you will still snap some pretty incredible shots.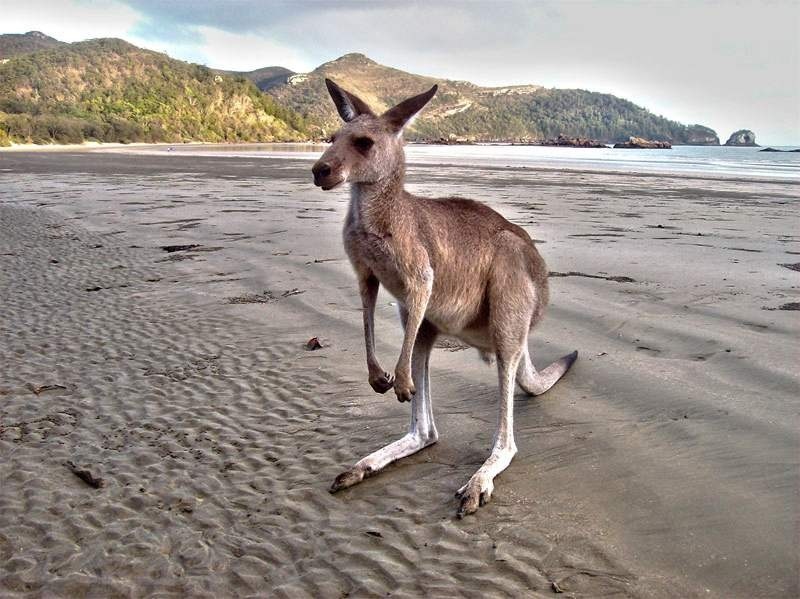 Noosa Main Beach
When it comes to one of the best beach towns in Queensland, it's hard to go past Noosa. Why? Because this little slice of holiday heaven has it all, including a bustling promenade filled with boutiques and eateries, gorgeous natural surrounds and one heck of a main beach. Patrolled year-round, this north-facing stretch of sand is fantastic for families, and with one of the longest right-hand breaks in the country, it's also an ideal spot for budding surfers. The facilities are top-notch, and Noosa's ice-creameries are just a very short, convenient stroll away.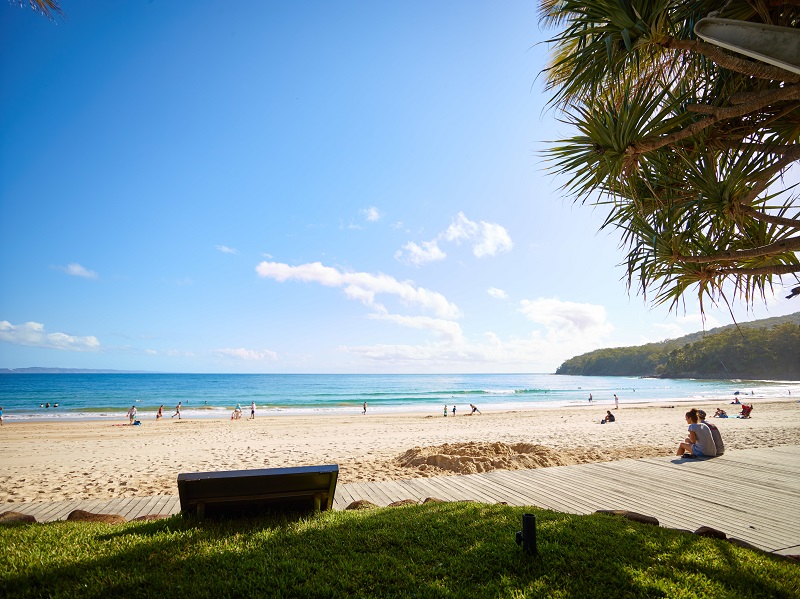 Tangalooma Beach
Famous for its 15 sunken shipwrecks, Tangalooma Beach is a must-visit destination for swimmers, snorkellers and scuba divers. You'll find this underwater playground on Moreton Island, around 75 minutes from Brisbane, and the wrecks are located just metres from the sand. Guided scuba tours are available for experienced divers, but the gentle conditions also make it a lovely site for those just wanting to splash around in the shallows, swim with turtles and stingrays or even try stand-up paddleboarding.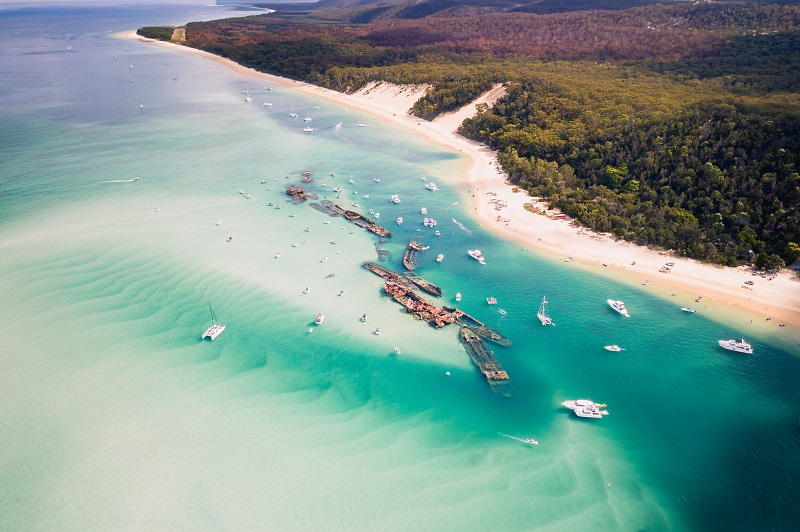 Palm Beach
If your four-legged friend loves the ocean as much as you do, then you need to pay a visit to Palm Beach on the Gold Coast – one of the most dog-friendly beaches in Queensland. The huge off-leash section begins at the Palm Beach Parklands and extends right around to Currumbin Creek and into the surf, giving your pooch plenty of space to chase balls, dig in the sand and have a little doggy paddle in the waves. Best of all, the nearby cafes make a mean puppuccino.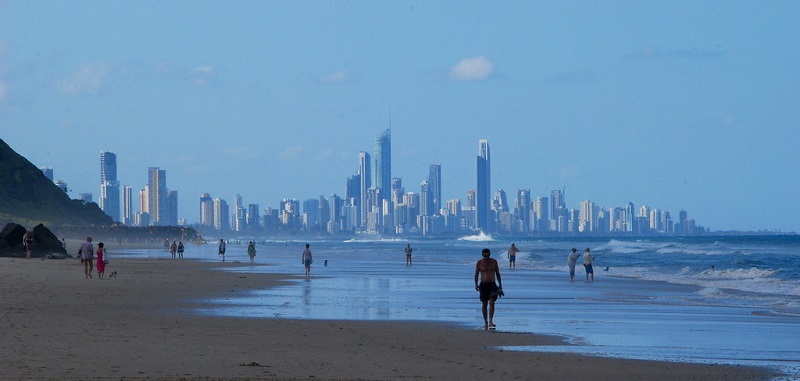 Four Mile Beach
The tropical North Queensland haven of Port Douglas is home to plenty of stunning beaches, but Four Mile Beach may just be the jewel in its sparkling crown. Named after a local family with the surname Fourmile (the beach is actually four kilometres in length, not four miles), it runs from Yule Point to Island Point, with towering palm trees lining the golden sand for the entire distance. Lifeguards patrol the area, and there are stinger nets to protect you from any nasties lurking in the water. It's also a great spot for kite and windsurfing when the breeze picks up.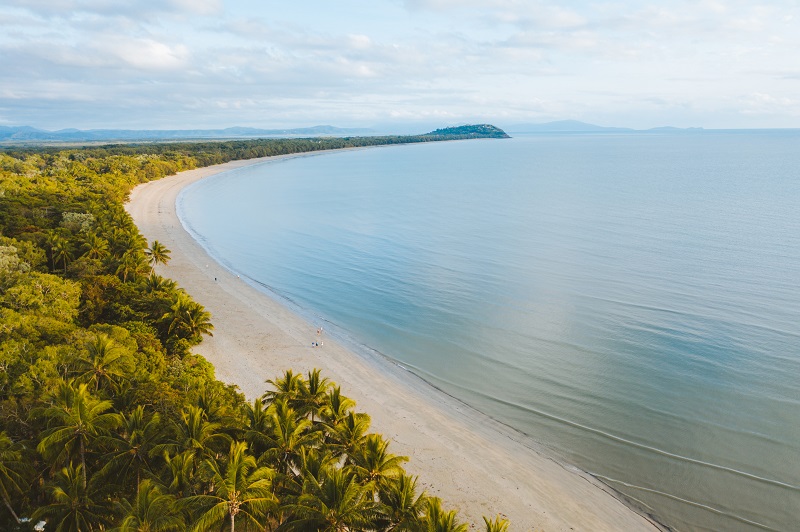 Burleigh Heads Beach
Beaches don't come much more perfect than Burleigh Heads. Nestled between Surfers Paradise and Coolangatta – each iconic destinations in its own right – Burleigh offers the best of both worlds with a sheltered main beach and cracking surf conditions around the neighbouring headland. A wide pathway for walking or cycling hugs the foreshore, weaving in and out of pine trees, barbecues and exercise stations, and on weekends it's not unusual for a farmers' market or a couple of arts and craft stalls to pop up. The views here are pretty special too, with the skyscrapers of Broadbeach and Surfers making for a glittering vista on the horizon.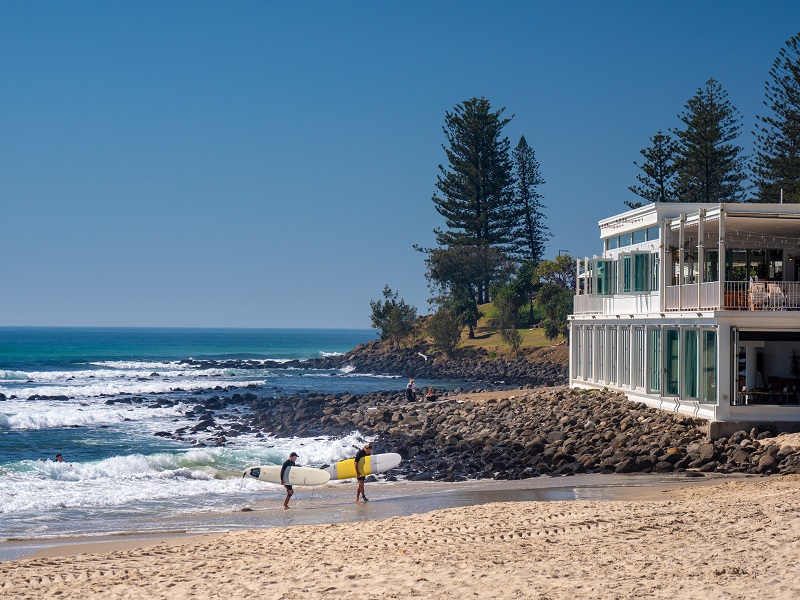 Radical Bay
You'll feel as though you've stumbled upon your very own private nirvana when you visit Radical Bay, one of Magnetic Island's 23 spectacular coves. Surrounded by enormous boulders and dense bush, it's a serene, secluded sanctuary accessible only via a 4WD track or walking trail from nearby Horseshoe Bay. It's well worth the effort though, and you'll be rewarded with a near-empty beach where the water temperature hovers at a delightful 27 degrees Celsius during the summer months. The fringing reefs are also chock-full of colourful corals and fish, so bring your snorkelling gear, too.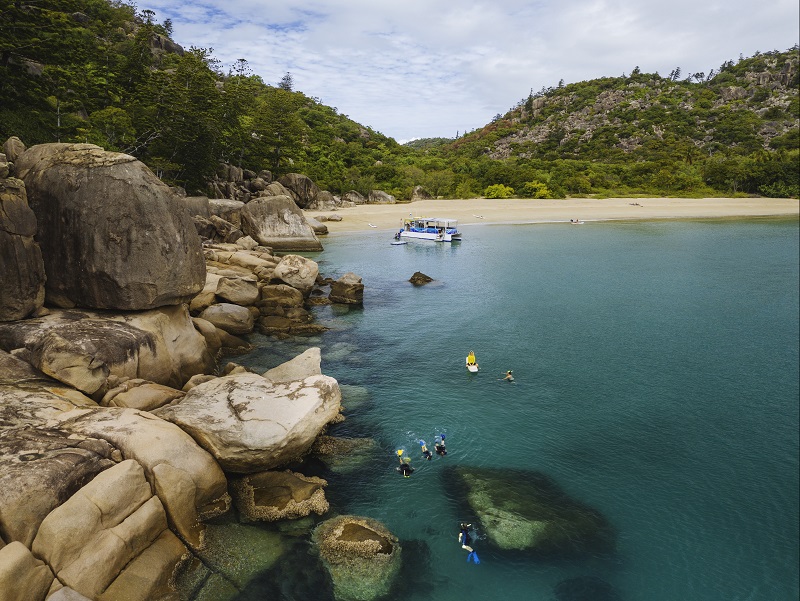 Myall Beach
The ancient Daintree Rainforest meets the Great Barrier Reef at Myall Beach, a pristine, palm-fringed section of coastline hidden on the southern side of Cape Tribulation. While you do have to be careful swimming here (crocs are known to frequent these waters, so best to just dip your toes in), the Myall Beach Walk that links the Kulki Boardwalk to the north and the Dubuji Boardwalk to the south is a wonderful way to immerse yourself in the lush coastal forest and mangrove swamps. Another unforgettable way to explore Myall Beach is on horseback as part of a guided trail ride.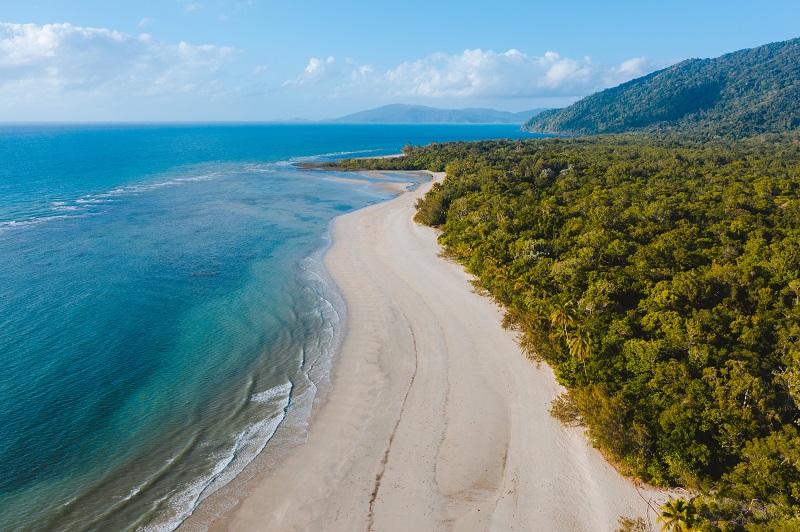 Tallebudgera Creek
Kid-friendly beaches that tick all the right boxes are hard to come by, but we think we may have found one that children of all ages are going to love. Tallebudgera Creek on the Gold Coast is a calm waterway protected from the surf by a natural breakwater. The water is a bright, brilliant blue in colour, and there is enough room on the soft golden sand for beach cricket, large umbrellas and making sandcastles. With no waves to worry about it's also one of the best Queensland swimming beaches – especially for littlies who are still building up their confidence in the water – and a fantastic place for stand-up paddleboarding and kayaking.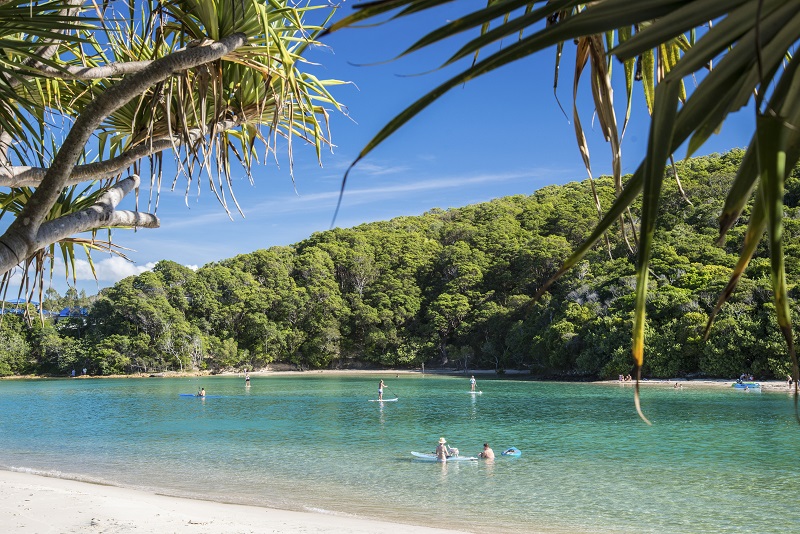 Rainbow Beach
Steeped in Indigenous history, Rainbow Beach on the Sunshine Coast is a site of sublime beauty and rich culture. While geologists say the location is named for the multicoloured sand cliffs that border the shoreline, according to Aboriginal legend the moniker is actually derived from Yiningie, the spirit of the Gods, who took the form of a rainbow and crashed into the cliffs. Sea kayaking, surfing and 4WDing are all popular activities here, and the beach is also positioned right next to Carlo Sand Blow – a gigantic dune covering almost 15 hectares where you can go sandboarding.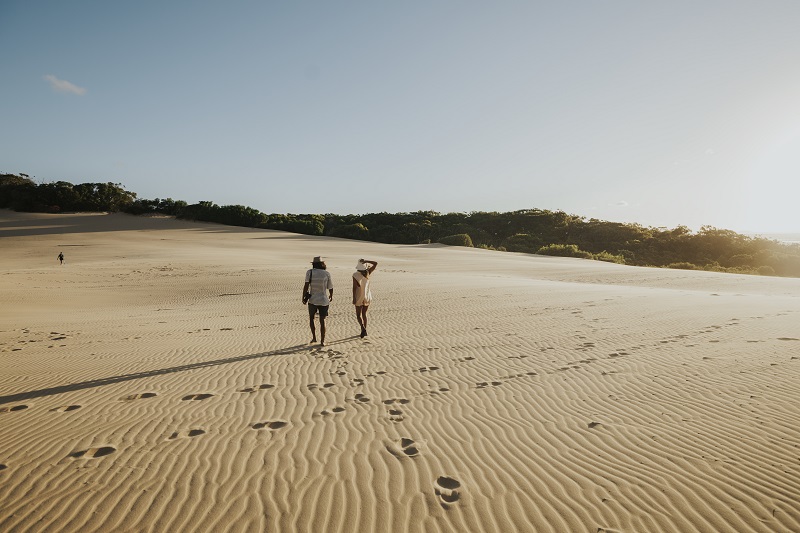 Want to discover more of Queensland? Find out its best secret beaches here and then book your cheap flights to Queensland with Webjet. You can also book Queensland hotels, or combine your flights with your accommodation in a Queensland holiday package.
Hero: Radical Bay. Credit: Tourism and Events Queensland