There's nothing more daunting than when you arrive in a new city and have absolutely no idea what the best form of transport is – especially when it's a big, bustling metropolis like Bangkok.
Figuring out how to get around Bangkok doesn't have to be stressful though. In fact, there are so many options to choose from, it would be close to impossible to become stranded anywhere within the urban fringe.
So before you touch down in the Thai capital and have thoughts like 'Is it safe on Bangkok public transport at night?' (the answer is yes) or 'How to get a taxi in Bangkok airport?' (it's easy, simply follow the signs to the taxi rank on level one), just refer to this handy guide and you'll be hailing a tuk tuk or riding the BTS Skytrain like a pro in no time.
Tuk Tuk
This wouldn't be a proper guide to getting around Bangkok if it didn't kick things off with the most iconic form of Thai transport: the tuk tuk. Riding in a tuk tuk is one of those quintessential Thai experiences; it's fun, exciting and there's a good chance you'll fear for your life multiple times along the journey. You'll find these rickety three-wheeled contraptions everywhere, although it's unlikely any locals will be hitching a ride. Why? Well, tuk tuk drivers are notorious for overcharging, so be prepared to haggle or you will get ripped off. It's also not unusual to find yourself on an unplanned detour, with drivers often taking longer routes to bypass commission-paying shops in the hope you'll spend even more money. Tick this off the bucket list just the once and then think about looking for alternative ways of getting around.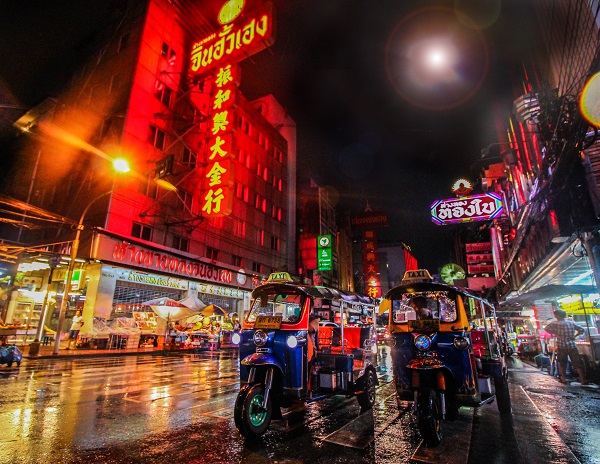 Motorbike Taxi
So if they're not riding tuk tuks, what are Bangkok locals using to get around the city? Motorbike taxis, of course. On par with tuk tuks in terms of lack of safety features (although these days most drivers will make you wear a helmet), if there's one positive to catching a motorbike taxi it's the speed at which you'll arrive at your destination. Motorbike taxis have the ability to duck and weave through traffic, easily avoiding the gridlock Bangkok is renowned for. If you do want to hail a motorbike taxi (remember it's only one passenger per bike), look out for the orange-vested drivers that congregate on busy street corners. You might want to double check your travel insurance policy before climbing on though, as many won't cover you if something happens.
Taxi
You're probably wondering if the Thai capital has any normal taxis cruising around, and thankfully, it does. The city's multicoloured taxis are a cheap and reliable mode of transport, and if you're getting around Bangkok at night after the BTS, MRT and river ferries have stopped running, jumping in a cab is a safe substitute. The travel time from Bangkok Airport to the city (roughly half an hour) means a taxi is your quickest option here too – just make sure you always ask how much do taxis in Bangkok cost. While fares for a taxi in Bangkok generally start at 35 baht, it's important to check the meter is working properly before you take off, as rogue drivers will often try and dupe tourists with exorbitant prices.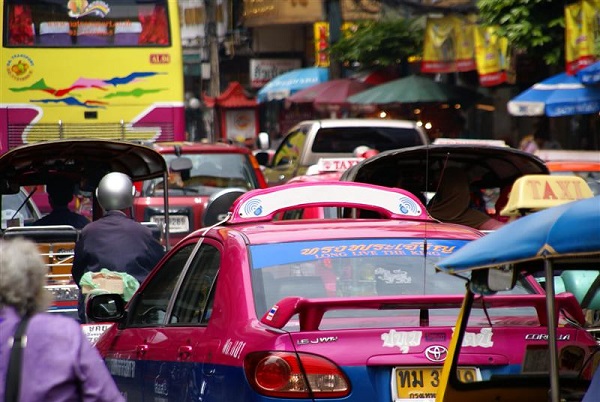 Bangkok Mass Transit System (BTS Skytrain)
What's air-conditioned, inexpensive and undoubtedly the fastest way to zip around Bangkok? The BTS Skytrain. Two separate lines form the elevated system; one running west to south (Silom), the other north to east (Sukhumvit), both linking many of the city's popular tourist attractions and avoiding any congestion below. The main BTS terminal is located at Siam Station, and services run every five to 10 minutes between 5:30am and midnight. Thai public transport prices are happily cheap and the BTS is no different, with fares ranging from 15 baht to 50 baht per trip. If you're unsure how to pay for public transport in Bangkok, self-service ticket machines can be found at stations, but do come prepared with coins as credit cards aren't always accepted.
Metropolitan Rapid Transit (MRT Subway)
While the BTS soars above the streets of Bangkok, if you head underground you'll find the MRT Subway snaking its way through the  belly of the city. Comprised of two main lines, it covers the majority of Northern Bangkok with stops at Chatuchak Market and connections to Hua Lamphong Station, the city's main train terminal. It also links up with the BTS at certain interchanges. While it's a fairly efficient system, renovations are currently underway that will see it expand even further to better accommodate the more than 400,000 people who use it every day. Much like the BTS, services run between 5.30am and midnight, although we'd recommend avoiding travel during peak commute times – unless you enjoy being squashed into already jam-packed carriages, that is.
Bus Rapid Transit (BRT)
It's the hidden gem of the Bangkok public transport system, and considering how simple and speedy it is to use, it's surprising more people don't frequent the BRT system. Currently only one of the five planned routes has been completed, and it runs between Sathorn and Ratchaphreuk. The beauty of the BRT is that the buses drive in their own dedicated lanes, meaning the bottleneck traffic jams that affect normal taxi and bus operations don't obstruct or hinder the service at all. Modern, cool and clean, the answer that carries the most weight as to why the BRT isn't more popular with visitors is that the route passes through a mostly residential area, rather than the touristy districts. So if you're just looking to get from point A to point B in relative comfort, the BRT is for you.
Bus
Keen to get a real taste of the city's public transport system? Then it's time to take the bus. An entirely separate entity to the BRT, Bangkok's humble bus system is a challenging, slow and sweaty experience thanks to non-English speaking drivers, destinations written only in Thai and massive overcrowding issues. Try and avoid any potential confusion by grabbing a map of the bus schedules from a terminal and plotting out your course beforehand. And don't forget to hail the bus down, or it will zoom right past you without stopping. It's ridiculously cheap to travel by bus in Bangkok, so even if you do get lost it's not costing you a fortune – and isn't that half the fun of exploring a new city?
Boat
With an extensive network of canals and waterways, you might be surprised to discover that getting around Bangkok by boat is actually one of the easiest ways to explore the city. With a floating array of ferries, long boats and water taxis available, the city's riverside attractions – like the Grand Palace, Wat Pho or Khao San Road – become far more accessible. Boats are easily distinguishable via a coloured-flag system (orange indicates local services, while blue symbolises tourist routes), and fares are on par with the BTS Skytrain and MRT Subway systems. Buy an unlimited pass for 150 baht and spend a whole day out on the water – after all, it's a relaxing way to see the top tourist sites and (best of all) there's no traffic!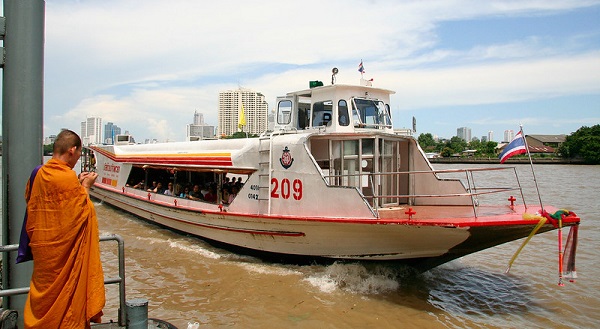 Find cheap flights to Bangkok on Webjet and touch down in Thailand knowing how to get around the capital like a local. You can also book Bangkok accommodation, or combine your flights and hotel into a money-saving holiday package. 
Hero image: Bangkok traffic. Credit: Connor Williams on Unsplash