Compare Cheap Flights to Queenstown, New Zealand
Don't pay more than you need to for flights. Check out Webjet's latest deals and find the best option for your trip to Queensland, New Zealand!
*Prices on this page are subject to change without notice, perform a search to view live pricing. Prices are inclusive of taxes and airline surcharges.
Webjet flight fees per booking:
Webjet Servicing Fee
: Domestic $10.95, AU/Pacific $18.95, International $33.95.
Booking Price Guarantee
: Domestic $8.95, AU/Pacific $10.95, International $17.95. Varying
payment fees
are included in the price breakdown on Webjet's checkout page, once your payment method has been selected.
Queenstown Guide
Queenstown Neighbourhood Overview
Fernhill
Do you love getting active during your holidays? Once you've bought your flights to Queenstown, book a hotel in Fernhill. The neighbourhood is close to several walking trails. Some of the most popular options are the Fernhill Loop and the Arawata Terrace Track.
Shotover Country
Shotover Country is a relatively new neighbourhood in the city. It's only a short 10-minute drive from Queenstown Airport (ZQN) and boasts an incredible view of the famous Remarkables mountain range.
Queenstown Hill
If you want to stay close to the city centre, Queenstown Hill is an excellent option for travellers buying plane tickets to Queenstown. The neighbourhood is close to the three-hour Time Walk Trail that will educate you on the city's historical roots.
Kelvin Heights
Feel like splurging with your flights to Queenstown? Stay in the lavish Kelvin Heights neighbourhood. It's one of the most expensive suburbs in the country. But besides its decadent mansions, the residential area also forms part of the famous Queenstown Trail.
Arthurs Point
For thrill-seekers purchasing cheap flights to Queenstown, Arthurs Point is one of the best places to stay. It's close to central Queenstown, the Shotover River, Bowen Peak, Queenstown Hill and the popular moonlight track.
Frankton
Frankton is the closest neighbourhood to Queenstown Airport (ZQN). Some of its highlights include the Kawarau Falls Bridge, Queenstown Events Centre, the Remarkables Park Town Centre and the Remarkables Market.
Top Things to Do and See in Queenstown
Lake Wakatipu
Queenstown is one of New Zealand's bucket list destinations thanks to adrenaline-pumping activities and awe-inspiring natural beauty. One of the city's top attractions is Lake Wakatipu. Travellers buying cheap flights to Queenstown can sail across the lake on board the historic TSS Earnslaw, book a kayak tour or spend a lazy afternoon fishing from the shore.
Skiing in The Remarkables
The Remarkables are a top reason that many people travel to Queenstown. It's one of New Zealand's top winter destinations and boasts world-class skiing conditions. If you want to test out the slopes, make sure you purchase your return flights to Queenstown for travel between June and September.
Skyline Gondola
The Skyline Gondola is one of the easiest ways for travellers purchasing flights to Queenstown to soak up the town's natural beauty. As you journey up to the summit of Bob's Peak, you'll have a panoramic vista over the city, Lake Wakatipu and the Remarkables. Once at the top, you can walk to the various lookout platforms, and stop for lunch at nearby restaurant before making your way back down.
AJ Hackett Bungy
If you can handle falling from a 43-metre platform, the AJ Hackett Bungy is one of the best places in the world to bungee jump. In case that's not enough of an adrenaline rush for you, travellers booking flights to Queenstown can also jump at Nevis Point, which is the highest bungy in New Zealand.
Lake Wanaka
Located inside Mount Aspiring National Park, Lake Wanaka is an iconic New Zealand landmark. It's a two-hour drive from Queenstown, so you'll need to hire a car at Queenstown Airport (ZQN) or pre-book one with Webjet when you buy your cheap flights to Queenstown. Once there, you can spend the entire day hiking, fishing, swimming or boating.
Packing Tips for Queenstown
A portable charger: With so many outdoor activities, travellers buying tickets to Queenstown will need to keep a portable charger in their bag in case their phone dies while out in the wilderness.
 
A day bag: Most travellers who buy return flights to Queenstown plan on spending a lot of time outside. A day bag is perfect for keeping all your essentials in one place as well as snacks, water and a raincoat.
 
Travel insurance: If you're planning on taking up any of the thrilling activities offered around the city, consider buying travel insurance once you've booked your airfare to Queenstown. It's important to make sure you get one that will cover you for all of the activities you plan to do while in the city.
 
Insect repellant: Before boarding your flights to Queenstown, grab a bottle of insect repellent to keep any bugs at bay. While most of the insect bites happen in the summer, the sand-files are around all year.
 
Rain jacket: Make sure you're prepared for a sudden downpour by packing a raincoat that can easily fit in your day bag. It's also a good idea to invest in a dry bag that you can use to protect your camera, phone and any other valuables from the rain.
Things to do in Queenstown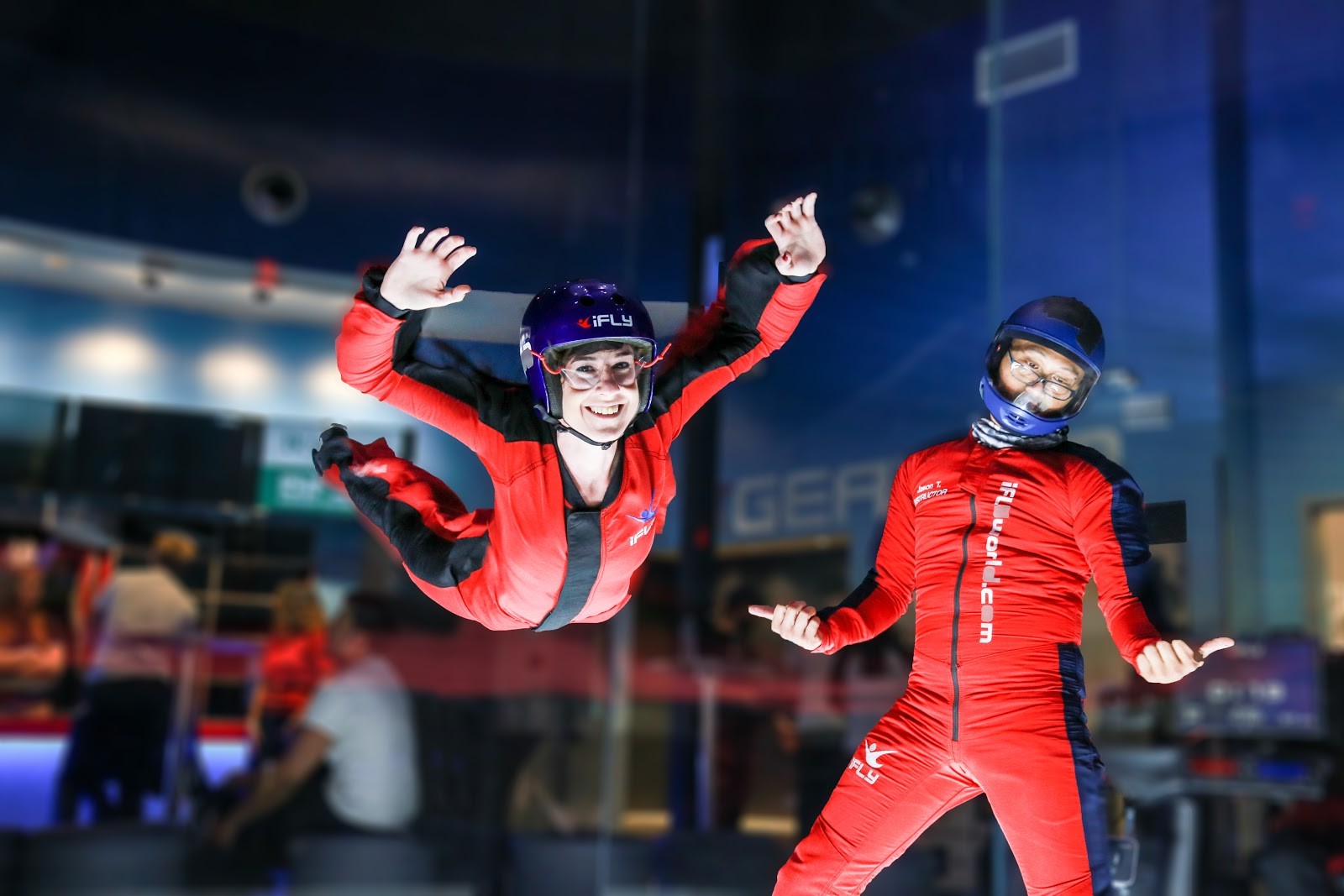 Indoor skydiving in the heart of the world's adventure capital
Ever dream of flying? Now you can. iFLY Queenstown is NZ's only indoor skydiving attraction and Queenstown's most exhilarating new adrenaline experience - we opened August 17th 2018! iFLY creates a smooth, wall-to-wall cushion of air on which anyone can safely float - no experience necessary. Simply lean into the airflow and that's it - you're flying! There's no parachute, no jumping, and nothing attaching you to Planet Earth. It's just YOU, indoor skydiving in the heart of New Zealand's adventure capital.