Webjet's Destination Guides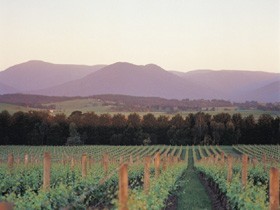 Yarra Valley sanctuary
Immerse yourself in the Yarra Valley, Dandenongs and the Ranges, where tall trees and ancient mountain ranges meet the vineyards and world class wineries of the Yarra Valley.
Only one hour's drive from Melbourne, discover a timeless sanctuary in this place of beauty, where stylish restaurants, quality produce and boutique accommodation are in harmony with village life, open gardens and Australian wildlife in its natural habitat.
Famous wine growing region
The Yarra Valley is home to Victoria's earliest vineyards and recognised as one of the world's great wine growing regions. Numerous wineries offer cellar door tastings and sales, and have restaurants serving gourmet food and fine local produce accompanied by their wine. For a different view of the countryside, take to the skies in a hot-air balloon before gently descending into a vineyard to enjoy a breakfast of sparkling wine.
Wildlife at Healesville Sanctuary
Get close to Australian wildlife at Healesville Sanctuary, home to dingos, kangaroos, wombats and the elusive platypus.
Puffing Billy - Australia's oldest steam train
Climb aboard Australia's oldest steam train, Puffing Billy, and travel through thick forests and lush fern-filled gullies.
Sanctuaries and gardens
At William Ricketts Sanctuary wander amongst rocks and fern gardens dotted with clay sculptures of Aboriginal figures, and in spring visit the region to see breathtaking displays of millions of tulips, freesias, daffodils, and rhododendrons.
Look out for bird life at the Alfred Nicholas Gardens, home to a stunning blend of native and exotic trees, waterfalls and a picturesque lake.
Montsalvat artist colony
The beauty of the region has been a source of inspiration for artists for over 100 years. Explore village galleries and shops, visit the remarkable Montsalvat artists colony and gallery, walk or cycle the renowned Heidelberg School Artists Trail, or go behind the scenes and see artists at work as part of the Artists Open Studios Program.
Grape Grazing Day
The region's vibrant calendar of seasonal events include the annual Grape Grazing Day, when over 20 wineries combine in a summer celebration of wine, food and musical talent. The region also boasts an enviable range of boutique bed and breakfast establishments, self-contained cottages and guesthouses.
Compare, book and save on cheap airfares for business or pleasure to Melbourne, Australia.