Webjet's Destination Guides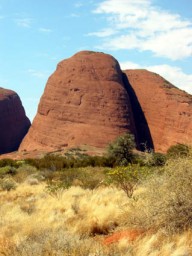 Uluru (Ayers Rock)
Uluru, also known as Ayers Rock, is a huge red sandstone monolith located in the Northern Territory's Uluru-Kata Tjuta National Park.
It is 9.4 kilometres in circumference, and rises more than 340 metres over its relatively flat surrounds.
Rock art in the caves around its base are evidence of the enduring cultural traditions of Anangu - the local aboriginal people.
Viewing Uluru at dusk or dawn is a very popular tourist event.
Kata Tjuta (The Olgas)
Only 30 kilometres to the west of Uluru are 36 steep-sided domes of Kata Tjuta, also known as The Olgas.
These naturally formed domes cover an area of 3,500 hectares, with Mount Olga, the highest feature, rising to a height of 500 metres.
The area is considered highly sacred by the Anangu men's law and, as such, detailed knowledge of it is limited.
Great Barrier Reef
The Great Barrier Reef is the world's most extensive reef system, and the planet's largest structure built by living organisms.
World Heritage listed, the reef provides habitats for many diverse forms of marine life. There are an estimated 1 500 species of fish and more than 300 species of hard, reef-building corals. More than 4 000 mollusc species and over 400 species of sponges have been identified.
The reef is also a breeding area for humpback whales, which come from the Antarctic to give birth to their young in the warm waters.
South West Tasmania
Tasmania's south west region is one of the hidden treasures on the Australian tourist trail.
The Tasmanian Wilderness World Heritage area covers about 20 percent of the state's total land mass, and has about 240 (or two thirds) of the state's higher plant species.
This area of Tasmania is home to some of the world's oldest trees, Huon pines. It is also the location of some of the deepest and longest caves in Australia, including Exit Cave, near Lune River.