Victoria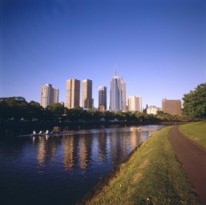 Diverse and beautiful
Victoria is jam-packed with holiday destinations, experiences and cultural delights to suit the most discerning of visitors.
Discover the diversity and beauty of Victoria's regions. From the world-class wineries of the Yarra Valley to the mineral springs of Macedon Ranges and Spa Country, the coastal villages of the peninsulas to alpine towns in the High Country, the state of Victoria has something for everyone.
Drive along the scenic Great Ocean Road, survey vineyards and farmland from a hot-air balloon, pull on your walking boots and follow tracks and trails through the Grampians, or experience the vibrant nightlife, shopping and food and wine of Melbourne.
Compare, book and save on cheap flights for business or pleasure to Melbourne, Australia.