Tasmania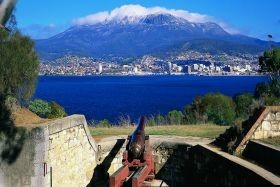 Separated from mainland Australia by the 240 kilometres (150 miles) stretch of Bass Strait, Tasmania is a land apart - a place of wild, mountainous and beautiful landscapes; friendly, welcoming people; temperate climate; quality wines and food; a spirited history; and a creative arts community - all wrapped up in a relaxed lifestyle.
More than 40 percent of the island is protected as World Heritage Area, national parks and state and marine reserves. In 2004, it was ranked third in the world for stewardship of its environment by National Geographic Traveler magazine's Sustainable Tourism Initiative.
Compare and book your next holiday flight to Hobart, Australia with cheap flights from Webjet.