Santiago Travel Guide
Santiago is often overlooked as a South American holiday destination. But Santiago offers travellers a unique holiday experience filled with culture and adventure. For the best that Santiago has to offer, head to Providencia for great Chilean food and visit Bellavista for outdoor markets with a true Chilean feel.
Santiago's mountainous backdrop serves as a great way to spend a dayhiking, horseback riding and kayaking.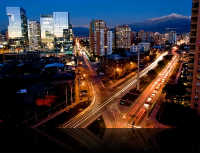 Santiago Weather
The best time to travel to Santiago is during the spring (September to November) and autumn (March to May) seasons, when temperatures are mild and the skies clear. During winter (June to August) temperatures are rarely freezing, but a heavy smog does frequently cover the sky. During summer, temperatures often reach 30°C, and many Santiago locals leave the city on vacation.
Santiago Culture
Fiesta de San Pedro
Fiesta de San Pedro occurs in the town of San Pedro de Atacama. A celebration of the town's patron saint, Saint Peter, the celebrations on 29 June include religious ceremonies as well as costumed dancing on the streets throughout the night.
Fiesta Patrias
Fiesta Patrias is Chile's celebration of independence. Celebrated annually on 18 September, the celebrations actually start many days before and end days after the actual independence date. Santiago is filled with national music, foods, drinks and parades. Unique to Santiago during Fiest Patrias is the Semana Criolla which includes a rodeo, arts and crafts, and folklore displays. Fit in with the locals with regular cries of 'Viva Chile!'
Fiesta Grande de la Virgen de Andacollo
The Fiesta Grande is an annual religious celebration held between 24-26 December dedicated to La Virgen del Rosario, the patron saint of miners. Held in the town of Andacollo, thousands of pilgrims head here each year for religious ceremonies, dances, horse racing and lots of food and drink.
Santiago Attractions
Palacio de la Moneda
The Palacio de la Moneda is the presidential house of Chile and guided tours of the inside are open to visitors. In front of the La Moneda is a courtyard where you can view sculptures and the 'Changing of the Guard' at 10 o'clock.
Plaza de Armas
Plaza de Armas is the main square of Santiago and is filled with people entertaining crowds, selling art and even putting on dance displays on the weekends.
The Chilean Museum of Pre-Columbian Art (The Museo Chileno de Arte Precolombino)
The Chilean Museum of Pre-Colombian Art houses a great collection of pre-Columbian artefacts and artworks from across South America.
Cerro San Cristobal (St. Christopher's Hill)
St. Christopher's Hill is one of Santiago's most popular tourist spots. A great view over Santiago from the top, you can walk to the peak in an hour or take a more leisurely pace riding the cable cars. For an unforgettable experience, climb the hill right before sunset and watch night fall over Santiago.
La Chascona
La Chascona was once the home of famed Chilean poet, Pablo Neruda. Each room is designed to look like the inside of a ship and it is in La Chascona where you will also get a glimps of Pablo Neruda's Nobel Prize for Literature.
Cerro Santa Lucia
Cerro Santa Lucia is located in Santiago Centro and is much smaller than Cerro San Cristobal, taking only 20 minutes to climb to the peak. On the way up, you will find many hidden murals, lookout points, statues and ponds. Once at the top of Cerro Santa Lucia you are afforded a great view over Santiago.
Compare and book cheap flights at Webjet today.
---
Webjet's Destination Guides