San Francisco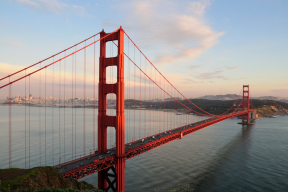 San Francisco, located in the state of California, is the second most densely populated city in the entire US. Famous for its scenic views and foggy mornings, San Francisco is also known by many names, including City by the Bay, San Fran or Frisco.
Travel to San Francisco and you can't help but be taken away by its steep rolling hills and Victorian architecture. What was once a quiet fishing village, the gold rush of 1848 was the beginning of San Francisco's transformation into a truly international city.
San Francisco Culture
San Francisco enjoys a high standard of living. Property values and household incomes of San Francisco are some of the highest in the US. However, the city is also characterised by a culture of acceptance that permeates San Francisco's mixed-use neighbourhoods, where resdients and visitors are readily welcomed.
San Francsico's Gay Culture
San Francisco became a centre of the US gay rights movement in the 1970s and the city's large gay population still maintains a strong presence in San Francisco's politics and culture. San Francisco is a popular gay tourist destination with the annual San Francisco Lesbian, Gay, Bisexual, Transgender Pride Celebration, better known as San Francisco Pride, a major drawcard for tourists from across the world.
What to Do and See in San Francisco
As one of the most walkable cities in the world, its easy to go sightseeing around San Francisco.
Golden Gate Bridge
The Golden Gate Bridge is an international icon, an instantly recognisable symbol of San Francisco. On clear days you'll be treated to spectacular views of the San Francisco Bay and the Pacific Ocean from the South or North Vista Points accessible by car or bus. But, to truly appreciate the magnitude of the Golden Gate Bridge, spare an hour or so to walk or bike across the bridge.
Alcatraz
Alcatraz Island is well known for its past as a prison, which operated until 1963. Now, Alcatraz is a popular tourist destination and is a declared historic site operated by the National Park Service. Ferries operate from San Francisco to Alcatraz, where you can tour Alcatraz prison and even take in some of the island's natural scenery and animal life.
Cable Cars
San Francisco's cable cars are a fun way to travel around San Francisco on your holiday. Due to the limited area serviced by cable cars, they are more frequented by tourists than local residents. The popular lines serve the local shopping and tourist districts in Union Square, Chinatown and Fisherman's Wharf.
Chinatown
San Francisco's Chinatown is home to one of the largest Chinese communities outside China and is one of San Francisco's major tourist attractions. Many people visit Chinatown, especially on the weekends causing traffic delays, but the authentic Chinese stores, markets and restaurants definitely make the trip worthwhile. With the large Chinese community, Chinese New Year in San Francisco's Chinatown is one of the biggest celebrations of the event in the world.
Lombard Street
Lombard Street has earned the distinction of being the most crooked street in the world. The one way section of Lombard Street on Russian Hill is characterised by eight sharp turns to allow cars to drive down the hill's steep incline. Catch a cable car to the top of Russian Hill for a look at this iconic street.
Search and compare cheap flights to San Francisco at Webjet.
Webjet's Destination Guides