The Middle East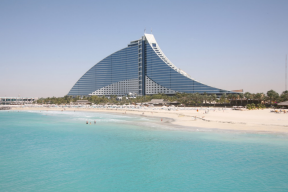 The Middle East is one of the most fascinating areas one can travel to. The Middle East refers to the regions where southwest Asia, southeast Europe and northeast Africa meet. The Middle East is filled with contrasts - countries that are filled with ancient history, yet have cities that boast lively, modern and cosmopolitan lifestyles - just one of the reasons millions of people decide to travel to the Middle East every year.
Middle East Holiday
The Middle East is a large region, and as such you will find that landscapes and weather changes between countries quite dramatically. Generally, the best times to visit the Middle East are during autumn (September to November) or spring (March to May) when the weather is mild. The hottest months are from June to September, and are best avoided if you are not a fan of extreme heat.
From the deserts of Cairo and Dubai, to the Mediterranean lifestyle of Tel Aviv and Beirut, there are many different holidays to be found in the Middle East.
Flying to the Middle East
The most popular airlines offering flights to the Middle East include Etihad Airways and Qatar Airways.
It is advised that you collect any visas before you travel to the Middle East. Although visas can be collected at some airports or borders, it can cut down on your travel time and it is best to err on the side of caution in these instances.
Cheap Flights to the Middle East at Webjet today.
Middle East Destinations