Webjet's Destination Guides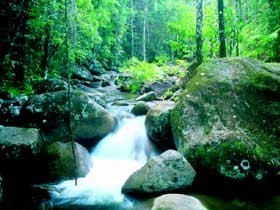 An affordable, diverse holiday experience
Located midway between Brisbane and Cairns, the Mackay region coastline stretches 200 kilometres north from St Lawrence to Laguna Whitsundays, and inland to the town of Clermont. The region's rich and colourful past is economically founded upon sugar cane, mining, beef and agriculture.
Spectacular rainforests and national parks, secluded islands and beaches, pristine coral reefs, plentiful fishing spots, historic townships, genuine country hospitality, scenic drives, great shopping and fabulous dining.
Relatively undiscovered, the Mackay region offers a unique holiday experience that is an affordable and diverse escape from the crowds.
Tropical climate
The region has a delightful tropical climate that is similar to that found in the Hawaiian Islands. The atmosphere is relaxed and casual as are the dress standards. Summers consist of warm, tropical weather without extreme temperatures and mild sunny winters. The average water temperature is a heavenly 22 degrees.
Holiday 'must-sees'
Holiday-maker 'must-sees' include: palm fringed city centre set beside the mighty blue Pioneer River, the Pioneer Valley, Finch Hatton Gorge and the famous Eungella National Park.
Stingrays and Box Jellyfish warning - October to May
Like all North Queensland beaches, those in the Mackay Region can attract marine stingers and box jellyfish from October to May. To avoid danger it is recommended that you swim at patrolled beaches and/or swimming enclosures, and follow any directions from lifesavers, with regards to current conditions.
Compare and save on flights to Queensland Australia. Book airfares, accommodation and car hire from Webjet.