Webjet's Destination Guides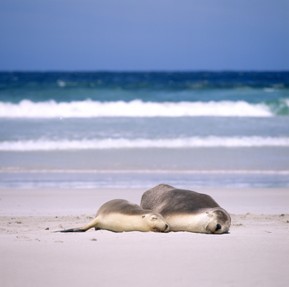 Unspoilt natural wonder
Separated from the Australian mainland about 9000 years ago, Kangaroo Island remains one of the most unspoilt natural wonders of the world. You'll find seals basking on quiet beaches; koalas munching on gum trees; echidnas wandering in search of insects; and kangaroos, goannas, wallabies, penguins and birds at just about every turn.
One third of the island is protected as conservation and national parks, and half the island has never been cleared of native vegetation. You can walk among huge weather-sculptured granite boulders at Remarkable Rocks and roll down the white sand dunes of Little Sahara. Dodge the wildlife as you hike through bushland. Stretch out in your own secret spot along the island's 480 kilometres of coastline, and retire to your own lighthouse keeper's cottage for the night.
30 minute flight south of Adelaide
Kangaroo Island is a 30-minute flight south from Adelaide, or less than two-and-a-half hours by car and ferry. Kangaroo Island Sealink runs ferries between Cape Jervis (90 minutes drive south of Adelaide) and Penneshaw.
At 150 kilometres long and 55 kilometres wide, the island is Australia's third largest. It has four town centres: Kingscote, Penneshaw, Parndana and American River.
A coach service runs twice daily between Kingscote, American River and Penneshaw to connect with ferry services (but bookings are necessary). There's a major sealed road right around the island, but many smaller roads are narrow, unsealed and edged with scrub. Driving by day or night, take it easy and allow for slower speeds when calculating travel times.
Flinders Chase National Park
Marvel at Remarkable Rocks and Admirals Arch, just two of the many amazing land formations within the 33,000-hectare Flinders Chase National Park. There's also the 1909 Cape du Couedic lighthouse and wildlife aplenty, including kangaroos, koalas, echidnas and the endangered Cape Barren geese. Start with a visit to the fabulous Flinders Chase Visitor Centre.
Penguin pageantry
Join Little Penguins on their nightly procession from the waters around Kingscote and Penneshaw to cosy seaside burrows. The friendly folk of the Kangaroo Island Marine Centre in Kingscote run nightly tours, and will also show you around their illuminating saltwater aquariums, containing a huge variety of island marine life including seahorses, cuttlefish and reef fish.
Island indulgence
Take your tastebuds on tour through the island's growing range of gourmet produce: from award-winning sheep milk cheeses at the Island Pure Sheep Dairy to pure Ligurian honey and olive oil. Watch free cooking demonstrations at the Fish gourmet seafood shop in Penneshaw every Thursday; select your own live lobster at Ferguson's in Kingscote; or grab a freshwater crayfish at Andermel Marron near Vivonne Bay.
Taste the boutique wines of this young wine region at the Sunset Winery Cellar Door or the Dudley Wines beside Cape Willoughby Lighthouse, before tucking into the finest local produce at one of many great restaurants and cafes. Grab a copy of the Kangaroo Island Food and Wine Guide and eat your way across the island.
Seal Bay Conservation Park
Walk among the nation's third largest and most accessible colony of Australian Sea-Lions as these creatures doze in the sun after lengthy fishing forays in the Southern Ocean. Various tours are available at the hugely popular Seal Bay Conservation Park: you can join a park ranger for a guided walk on the beach, or take a self-guided tour on the more accessible boardwalk.
See the lighthouse
Envelop yourself in the island's history with a tour of its spectacular lighthouses. Dating back to 1852, Cape Willoughby is South Australia's oldest lighthouse: you can tour it daily. At Cape Borda, tour the lighthouse and museum before exploring the old landing site and lightkeeper's cemetery. At Weirs Cove, get an insight into the lifestyle of early lighthouse keepers at Cape du Couedic, as you wander among the remains of the jetty, water tank and storerooms.
Ligurian honey
Savour the sweetness of Clifford's Honey Farm or Island Bee Hive, where Kangaroo Island's own population of Ligurian bees (the only pure strain in the world) produces 100,000 kilograms of delectable honey each year. The bees were imported in hives from the Italian province of Liguria in the 1880s, and remain protected from other breeds of bee by the island's isolation.
Little Sahara
Take a sand board and ride the razorback sand ridges of Little Sahara, a series of spectacular sand dunes that rise out of bushland in the centre of the island.
Emu Ridge Eucalyptus Distillery
Delight in clever bush technology at Emu Ridge Eucalyptus Distillery, now the only commercial distillery of its kind in South Australia. Take a guided tour, see how traditional bush products (like solvent, stain remover and insect repellent) are made and discover relics from the 1930s, when 40 eucalyptus stills employed 600 people across the island.
Kelly Hill caves
Sympathize with the poor horse that discovered Kelly Hill Caves in 1881 by accidentally falling into one, as you tour this beautiful cave system of caverns and sinkholes, lit using ground breaking fibre-optic.
Compare and save on flights to Adelaide, Australia. Book airfares, accommodation and car hire from Webjet.