Istanbul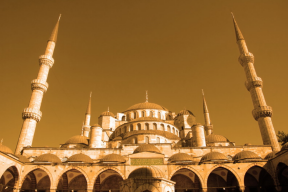 Istanbul, the largest city in Turkey, and is steeped in history. From it's past as Constantinople, the capital of the Roman, Byzantium and Ottoman Empires, Istanbul is now a thriving city attracting tourists from around the world wanting to experience the "Hippest City in Europe", an accolade attributed to Istanbul by Newsweek.
There are relics of Istanbul's ancient history throughout the city from historical museums, churches, mosques and bazaars displaying a mix of cultural influences from its European and Asian neighbours. Istanbul is now a modern and vibrant cosmopolitan city that seamlessly blends aspects of the past and the present.
Istanbul Culture
Istanbul is filled with people of different cultures and backgrounds. The majority of Istanbul is Muslim, however there are communities of ethnic Christians, Catholics and Jews. Istanbul's geography lends itself to a unique blend of Middle Eastern and Western culture, making Istanbul home to people from diverse backgrounds.
Istanbul's geography lends itself to a blend of Middle Eastern and Western cultures, and as such is home to people from many diverse backgrounds.
Istanbul Attractions
Hagia Sophia & Blue Mosque
Istanbul's Hagia Sophia is an astounding example of Byzantine architecture, from its large dome to its tall minarets. Hagia Sophia is now a museum, but in its past was once a church and then served as the principal mosque of Istanbul for 500 years.
The Blue Mosque, a sibling mosque to the Hagia Sophia, is not actually blue but is named after the blue tiles in its interior. The mosque is open to visitors, however is closed to non-worshippers during prayer times.
Topkapi Palace
Topkapi Palace was the home of the Ottoman Sultans for 400 years. The Topkapi Palace is now a museum where visitors can view amazing Ottoman architecture and artifacts including porcelain, weaponry, murals and treasure in selected rooms.
Grand Bazaar
Istanbul's Grand Bazaar is one of the oldest and largest covered markets in the world. At the Grand Bazaar you can haggle with vendors over jewellery, carpets, spices and even antiques. With over 5,000 shops, restaurants and cafes, visiting the Grand Bazaar is a great way to spend a leisurely day in Istanbul.
Turkish Baths
Turkish baths, or hamams, in Istanbul once fell out of favour, however, turkish baths are seeing a resurgence in popularity. In a Turkish bath, you will be steamed, scrubbed, bathed and massaged, leaving you completely relaxed to enjoy a customary cold drink afterwards.

Istanbul Shopping
Istanbul is a city that blends the old and the new, and shopping in Istanbul is no different. There are the traditional style markets found at the Grand Bazaar, however, for international fashion brands and local Turkish designers can be found at trendy boutiques and modern shopping centres like Istinye Park, Kanyon Shopping Mall, Akmerkez and Cevahir Mall, the largest shopping centre in Europe.
Sultanahmet District
The Sultanahmet district is the heart of Old Istanbul, where most of the buildings are still standing from the Byzantine and Ottoman Empires. A visit to the Sultanahmet Meydani is compulsory as it was where the Hippodrome of Constantinople once stood, an arena for Byzantine sporting and social events.
Book your next cheap flights to Istanbul on leading airlines found at Webjet and save.
Webjet's Destination Guides