Best of all, it's in Hong Kong
With over 14,000 eateries and restaurants ranging from cheap eats to Michelin-starred fine dining, Hong Kong is a paradise for food lovers and will satisfy even the choosiest of taste buds.
Discover a range of dining options as you eat your way through the city's history from traditional dim sum and local street food to fusion cuisines and Western flavours for an immersive culinary experience.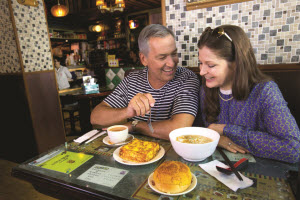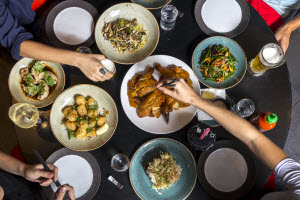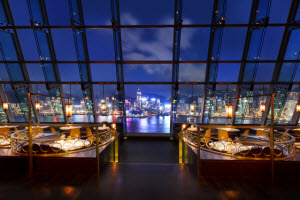 It is no secret that Hong Kong is a mecca for international cuisine. The vibrant gastronomic offerings cover Western flavours from Italian fine dining to laid-back American diners to regional specialities throughout Chinese cooking. 'East meets west' is a way of life in the cultural melting pot and the city's favourite dishes offer visitors a unique and delicious chance to eat like a local.
One of the best places to start on this gastronomic journey, is at a local cha chaan tengs — meaning 'tea restaurants'. Taking Western recipes and adapting them with local ingredients and cooking techniques, Hong Kong chefs created dishes that offer an intriguing glimpse into Hong Kong's culinary past.
Another local favourite are the city's dai pai dongs – licensed, open-air cooked-food stalls that originated in the late 19th century. Serving a loyal clientele a selection of local favourites from simple fried rice and pot–noodles to gourmet seafood, simply just look and point to your dish of choice for easy ordering.
Wet markets play an essential role and are a daily ritual for many Hong Kong residents. As well as offering the opportunity to choose from a mouth-watering array of fresh produce including fresh vegetables, meat, live seafood and much more, these markets are important social gathering places.
For more information on eating your way around Hong Kong, click here.
Save more on your Hong Kong hotel stay when you use code: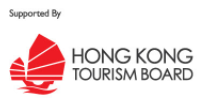 Terms and Conditions:
*Coupon Code: Offer valid from 00:01 1 March 2018 - 23:59 31 March 2018 and is valid for Hong Kong hotels only. Your $50 code HONGKONG OR $100 HONGKONG100 can be redeemed at https://hotels.webjet.co.nz/. Select your preferred hotel and enter the code in the Coupon Code field on the payment page and we'll pay $50 (a minimum spend of $400 applies) OR $100 (a minimum spend of $800 applies) towards your total hotel booking cost. Hotel Coupon Codes are redeemable on hotel only bookings and therefore are not valid for bookings which combine flight and hotel in one transaction. Read our full Coupon Code Terms & Conditions. Webjet's standard booking Terms and Conditions apply.
*Prices on this page are subject to change without notice, perform a search to view live pricing. Prices are inclusive of taxes and airline surcharges.
Webjet flight fees per booking:
Webjet Servicing Fee
: Domestic $10.95, AU/Pacific $18.95, International $33.95.
Booking Price Guarantee
: Domestic $8.95, AU/Pacific $10.95, International $17.95. Varying
payment fees
are included in the price breakdown on Webjet's checkout page, once your payment method has been selected.
*Prices are subject to availability, include taxes and airline surcharges. All prices on this page are subject to change without notice. Whilst Webjet makes every effort to provide you with accurate and up-to-date information, in the event a product is listed at an incorrect price, whether due to typographical, photographic, or otherwise, Webjet may refuse or cancel any orders placed for a product listed at the incorrect price.
Webjet's Destination Guides