Travel Australia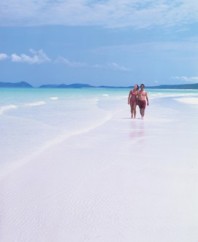 Whether you choose to relax or get active on your trip to Australia we have an extensive selection of activities and destinations to suit everyone.
The beaches and surf destinations in Australia are second to none in the world.
Our natural attractions are unique on the world stage - with the Great Barrier Reef, Uluru, Kakadu and The Kimberleys ranking as some of the most popular destinations.
Our key cities - Sydney, Melbourne, Brisbane, Adelaide and Perth - are modern, sophisticated, clean and easy to navigate.
Take some time to browse our magnificent travel destinations, to whet you appetite for your next trip to our shores.
Australian Destinations
Australia's biggest attraction is its natural beauty. The landscape varies from endless sunbaked horizons to dense tropical rainforest to chilly southern beaches.
Beach and reef
With a coastline of 36,735 kilometres, the island continent of Australia is one long stretch of sand.
Unique wonders
A single rock rising from the earth like a giant red heart, sandstone figures clustered like ancient cities, such are the unique wonders that Australia is famous for.
Outback
Australia's heart lies in its outback. Explore the immense desert plains of red sand and white salt pans, colourful gorges and unusual monoliths.
Rainforests
Australia has several rainforests that are World Heritage listed, in recognition of their outstanding biodiversity and rarity.
National Parks
Kakadu National Park in the Northern Territory, is one of the few sites on the World Heritage list for both outstanding cultural and natural universal values.