Webjet's Destination Guides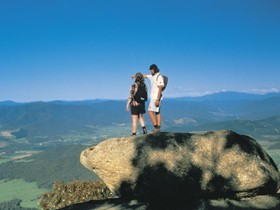 High Country landscapes
The High Country in north-east Victoria is a special place with scenic alpine landscapes, a host of outdoor activities, gourmet food and wine and a fascinating heritage of bushrangers, horsemen and gold.
Popular snowfields
During the winter, the region is home to Victoria's best and most accessible snowfields, such as Mount Buller, Mount Hotham and Falls Creek. When the snow disappears the area is popular for a host of outdoor activities, from four-wheel driving, mountain biking and horse riding to hiking on the high plains.
Acclaimed wineries
After a day of altitude, head to the valleys and sample the delicious local produce. Enjoy the majestic tree-lined streets, riverside walks and cafe culture of Bright, visit one of the highly acclaimed wineries in Rutherglen or tour the famous cheese factory in Milawa.
Bushranger history
Discover the fascinating heritage of the region in historic towns and villages such as Beechworth where you can wander among the grand nineteenth century buildings that are a legacy of the heady gold rush days.
Visit historical sites and attractions in Glenrowan where Australia's most famous bushranger, Ned Kelly, made his last stand, or discover the proud and enduring spirit of the cattlemen and rugged adventurers in Mansfield.
Great Alpine Road - tourist route
The Great Alpine Road, one of Australia's great touring routes, winds through the region showcasing stunning alpine landscapes, heritage towns, and local food and wine between Wangaratta, Bairnsdale and the Gippsland Lakes.
Compare, book and save on cheap airfares for business or pleasure to Melbourne, Australia.