Webjet's Destination Guides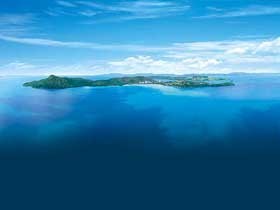 Hamilton Island is nestled amongst the Whitsunday Islands, a group of 74 islands just off the Queensland Coast and at the edge of the world famous Great Barrier Reef.
Direct flights from key capital cities
Direct flights from Sydney (two hours), Melbourne (three hours), Brisbane and Cairns (one hour) with easy connecting flights from all other capital cities, makes getting there a breeze.
Ultimate holiday destination
As the ultimate Great Barrier Reef holiday destination, Hamilton Island is the perfect gateway to explore the unique tropical environment of the Whitsundays like Whitehaven Beach or Heart Reef. You can snorkel, scuba dive or swim off the reef and witness one of the world's most spectacular natural wonders and its abundant array of ocean life.
Hamilton Island offers the promise of a tropical getaway where you'll be spoiled for choice with plenty of opportunities to try something new. With over 40 different activities to choose from you can experience sea-kayaking, game fishing, scenic helicopter flights, or even have breakfast with the Koalas at our Koala Gallery. Of course, you might simply want to concentrate on doing nothing at all, like laying around one of six pools or simply relaxing on the beach.
Luxurious accommodation
Every taste and budget is also accounted for, with an impressive range of accommodation. From the luxurious and intimate beachfront setting of the Beach Club to the sweeping views of the Coral Sea at The Reef View Hotel. If it's a little more independence you're after, you can choose from the self-contained Whitsunday Holiday Apartments and Villas or select from the Polynesian style Palm Bungalows or the Palm Terraces which are both ideal for families. All accommodation has easy access to the beach, restaurants and resort centre.
Compare and save on flights to Queensland Australia. Book airfares, accommodation and car hire from Webjet.