Webjet's Destination Guides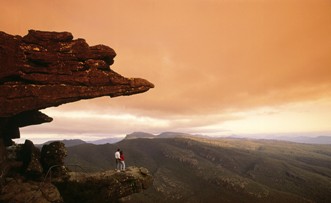 Grampians National Park
Renowned for rugged mountain ranges and stunning wildflower displays, Grampians National Park is one of the State's most popular holiday destinations. Declared in 1984, the 167,000-hectare park is home to abundant bird life and almost a third of Victoria's plant species.
Discover grand and rugged mountain ranges, spectacular wildflower displays, a wide range of outdoor recreational opportunities, and a wealth of Aboriginal rock art sites in the Grampians National Park.
The park enjoys a rich and colourful spring wildflower display, best seen from August to October. Heath lands come to life with colourful shows of Grampians Boronia, Blue Pin-cushion Lily, and a multitude of other herbs and shrubs.
The park is also home to a profusion of native animals and birds. You can find kangaroos, koalas, emus, wedge-tailed eagles and more. Zumstein picnic ground is a popular kangaroo viewing area.
Outdoor adventuring
The Grampians region is recognised internationally as a great destination for outdoor adventures. For an exhilarating outdoor experience try rock climbing in the Mount Stapylton area of the Grampians National Park or at Mt Arapiles, join an exhilarating downhill mountain bike tour through the ranges, or trek through some of the finest wilderness in the state. If you prefer to experience your adventures sitting down, tour the region in a 4WD or experience the grandeur of the Grampians from a light aircraft, cast a line for trout or paddle a canoe through a lake or river.
Aboriginal art sites
A major attraction of the park is its collection of native Aboriginal art sites. Aboriginal people have a long association with the Grampians.
Today approximately 60 rock art sites, containing more than 4,000 different motifs have been identified in the National Park. Several shelters are open to the public and are all easily accessible. In the Western Grampians you can visit Manja and Billimina shelters and in the north Ngamadjidj and Gulgurn Mana shelters. One of the most important sites in the region, and in Victoria, is Bunjil's shelter.
Grampians - a long history
Aboriginal people have had an association with the Grampians, traditionally known as Gariwerd, for thousands of years. The numerous local clans have left evidence of their lives in the region, including ancient oven mounds, scatterings of stone left over from tool making, rock art sites and the beliefs handed down from one generation to the next.
Recognising the heritage of Gariwerd
Descendants of the original clans of Gariwerd continue their strong connection with the region. In 1991, the traditional names of 49 places and features within the Grampians region were restored, recognising the important heritage and mythology of western Victoria's Aboriginal people.
Bringing Aboriginal history to life
Brambuk the National Park and Cultural Centre in Halls Gap brings to life the history and culture of five aboriginal communities in Victoria. This impressive centre offers visitors information on the rich Aboriginal culture, heritage and local rock art sites.
Compare, book and save on cheap airfares for business or pleasure to Melbourne, Australia.