Webjet's Destination Guides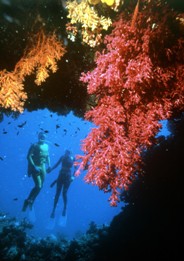 The Gladstone region is a unique area of Queensland - a region where opportunity awaits.
Doorstep of the Great Barrier Reef
This dynamic city basks in a sub-tropical climate with islands, waterways and beaches on the doorstep of the Great Barrier Reef. So many landscapes, variety and so much sunshine provide the visitor with endless opportunities.
Deep water harbour
At the heart of the region, the city of Gladstone overlooks its natural deep water harbour. To the south lie the shires of Calliope and Miriam Vale with idyllic, secluded beaches and scenic National Parks. 1770 is the first place in Queensland that Captain James Cook stepped ashore. Boyne Island is renowned for its beautiful foreshore parks, while its sister city of Tannum Sands offers long sandy beaches for safe coastal recreation.
Coral bays
The reef islands within the Gladstone Region are true coral bays, and day trips are on offer to Lady Musgrave Island and Fitzroy Lagoon where visitors can enjoy diving, snorkelling, fishing, reef walking or exploring the flora and fauna
National parks
The region has several impressive national parks which add camping and 4 wheel driving to the adventures you can experience in the area. The spectacular cliffs of the Kroombit Tops are cloaked in diverse flora and fauna. Mount Castletower National Park lies at the base of Lake Awoonga with its impressive, yet rugged terrain. Deepwater and Eurimbula National Parks provide the contrast of open eucalypt and paperback forests with lush rainforests and quiet beaches.
Botanic Gardens and Galleries
Gladstone's Tondoon Botanic Gardens are one of Australia's few totally native botanic gardens. The display areas specialise in the plants of the surrounding and Tropical North Queensland regions. The Gladstone Entertainment Centre, forms the focal point of the city's cultural activities. The Gladstone Regional Art Gallery and Museum is a colonial Georgian structure which houses three exhibition areas.
Compare and save on flights to Queensland Australia. Book airfares, accommodation and car hire from Webjet.