Flinders Ranges and outback
Webjet's Destination Guides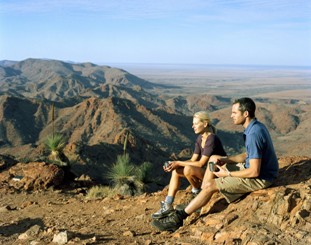 The Flinders Ranges and Outback equals beauty on a massive scale, diverse landscapes and mateship in the smallest pubs.
Covering more than 80 per cent of the state, it's a region of great diversity: from the pink parallel dunes of the Simpson Desert down to Mount Remarkable Wines and gulf cruises in the south. You'll find ancient ranges steeped in Aboriginal legend, bird-filled lakes in the middle of the desert and pretty Flinders Ranges towns celebrating the history of heroic pioneers who opened up the continent with the Overland Telegraph and the Old Ghan railway.
There are great attractions and experiences in the southern, central and northern regions of the Flinders Ranges, so take the time to discover them all on your journey north.
Port Augusta
Journey into our big backyard without even leaving the bitumen at Port Augusta's Wadlata Outback Interpretive Centre, where fun displays cover everything from Aboriginal Dreaming and European settlement to geology and mining. Don't leave town before visiting the Australian Arid Lands Botanic Garden and taking an Augusta Water Cruise to follow in the wake of Matthew Flinders, the first European to see Upper Spencer Gulf on his epic 1802 voyage.
Pichi Richi railway
Ride the Pichi Richi Railway between Port Augusta and Quorn, relaxing in timber-body carriages up to 115-years old as you pass some of the prettiest scenery in the Central Flinders Ranges. A dedicated band of volunteers breathed new life into the abandoned railway in 1973, and now also run guided tours of the workshop in Quorn.
Wilpena Pound
Soar above the saw-toothed ramparts, lush valleys and plunging gorges of Wilpena Pound on an unforgettable scenic flight from one of many Flinders Ranges and Outback centres: from Rawnsley Park and Wilpena Pound Resort to Arkaroola Wilderness Sanctuary and Marree. This majestic natural amphitheatre is best captured from above, to fully appreciate its scale and beauty.
Parachilna's Prairie Hotel
Dine or drink at Parachilna's Prairie Hotel and there's every chance will be in famous company. The pub is a hub for a growing number of International moviemakers drawn to the beautiful Outback landscape.
Licensed in 1876, it is one of the few buildings in Parachilna, population in the single digits and lying between the Flinders Ranges to the east and Lake Torrens to the West.
It has a sensational range of accommodation and a deserved reputation for "Flinders feral food", including anything from kangaroo, emu and yabbie to quandongs native limes and bush tomatoes.
Compare and save on flights to Adelaide, Australia. Book airfares, accommodation and car hire from Webjet.