Dubai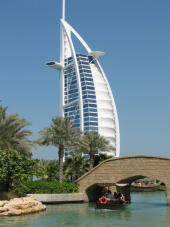 Dubai is the most populous city of the United Arab Emirates (UAE) and is where Emirates Airlines is based. Located on the Persian Gulf coast, Dubai is now an international hub of trade, tourism and real estate, a far cry from its origins as a fishing village. Dubai's transformation into an international trade and tourism centre often promotes comparisons to Hong Kong, with many claiming that Dubai is to the Middle East what Hong Kong is to Asia.
Called the City of Gold, Dubai is a luxurious city of contrasts, where East meets West and where traditional and modern ways combine. While Dubai shows examples of innovation wherever you go, Dubai has in fact been ruled by the Al Maktoum dynasty since 1833.
Dubai Culture
Dubai is a fairly multicultural society with many ethnic groups working and living in Dubai. While Dubai is portrayed as a cosmopolitan city, it is also a class based society where migrant workers are seen to be the lower class.
Dubai Restaurants
The multicultural society of Dubai is reflected in the number of cuisines available throughout the city. Whilst Arab food is the most popular, there also restaurants and diners throughout Dubai offering fast food, South Asian and Chinese dishes.
Dubai Attractions
Dubai Gold Souk
The Dubai Gold Souk is a traditional market where over 300 retailers sell mostly jewellery. The Dubai Gold Souk is well known for the vast amounts of gold jewellery for sale but is also a great place to buy diamonds.
Dubai Bus Tour
Bus tours of Dubai are the best way to see all the sites and as most tours are accompanied by guides, it is also a great way to learn about Dubai's history and culture at the same time. See all of Dubai's greatest tourist attractions from the beach to the city in a bus tour.
Dubai Desert Safari
A desert safari is a unique experience for travellers to Dubai. Desert safaris are tours of Dubai's deserts in 4 wheel drives (4WDs) and often include visits to camel farms, including fun camel rides, and even sand skiing is an option.

Ski Dubai
Is it possible to play in snow when you're in the middle of the desert? You can in Ski Dubai, the third largest indoor ski slope where you can ski, snowboard and toboggan until your heart's content!
Dubai Shopping
Dubai Duty Free is unlike any other airport duty free shopping centre. Dubai Duty Free, located at Dubai International Airport, is the largest airport retailer in the world and you are bound to find a great range of electronics, cosmetics, DVDs and more at tax free prices.
Dubai Museum
The Dubai Museum is located at Al-Fahidi Fort, one of Dubai's oldest buildings. Built from coral and shell rubble, the fort has as much historical significance as the artifacts inside, which include ancient archaeological items, musical instruments and tribal weapons.
Search and compare cheap flights to Dubai at Webjet
Webjet's Destination Guides