Auckland Travel Guide
In New Zealand's north island Auckland is the largest city in New Zealand. Located between Waitemata Harbour and the Hauraki Gulf, Auckland is well known for is relaxed lifestyle with all the conveniences of city living.
The Auckland CBD is mainly a commerce district. Visitors should walk around Auckland inner city suburbs and experience the diverse mix of cultural backgrounds and trendy youth culture that makes Auckland so unique.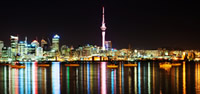 Auckland Accommodation
From hotels to motels, B&Bs to serviced apartments there is sure to be accommodation to suit any budget and preference. There are many hotel options within the local CBD area as well as the local city and surrounding suburbs. Cheaper options like shared accommodation in backpacker hostels are popular and well maintained in Auckland. Book now with Webjet & save on Accommodation in Auckland.
When to Visit Auckland
Auckland's climate is mostly consistent, warm to temperate and is probably the warmest and sunniest city in New Zealand. Summer time which falls between December and February is a great time to visit Auckland where tourists can expect temperatures average around 23°C each day. Winter (June-August) the average maximum temperature is 14°C. Though the climate is temperate, rain is fairly common in Auckland. Regular heavy rainfalls occur throughout the year.
Getting to Auckland
If you are flying into Auckland there are many affordable transport options from Auckland Airport including; buses, taxis and hire cars. It is advisable to book rental cars ahead of time to ensure you get the car you want and avoid waiting around at the airport. The airport is located about 21kms from Auckland city centre, the trip generally takes about 30 minutes.
Auckland Popular Attractions
Auckland War Memorial Museum
The Auckland War Memorial Museum was built in 1929 and overlooks the majestic Waitemata Harbour. The Auckland Museum is a memorial museum in respect of the lives lost in the first world war. The building is considered one of the best known examples of neoclassical buildings in New Zealand. The Auckland Museum houses a vast collection of Māori artefacts including historial information about Māori culture. The museum also has a great collection of New Zealand natural history exhibitions, in addition to the ever-changing temporary exhibitions from around the world. Entry to the museum is by donation only.
Kelly Tarlton's Antarctic Encounter & Underwater World
This unique attraction in Auckland is where a visitor can have close encounters with penguin colonies, come face to face with sharks, stingrays and many other fascinating sea creatures. There is also an opportunity for brave visitors to swim with sharks and stingrays. Kelly Tarlton's Antarctic Encounter & Underwater World is open everyday from 9am to 6pm.
Auckland Art Gallery - Toi o Tamaki
The Auckland Art Gallery has an amazing collection of art history that includes early Māori portraits, New Zealand landscapes as well as an excellent collection of contemporary New Zealand art. There are more than 12,500 artworks on display that date back to as early as 1376. The building itself has a grand history, with its unique exterior designed by Melbourne architects and completed in 1888 and is a well recognised structure in Auckland for its old world, timeless appearance.
Auckland Sky Tower
Auckland Sky Tower offers visitors two thrilling options - SkyWalk and SkyJump. On SkyWalk walk 360 degrees around Sky Tower without any barriers between you and the air, or choose SkyJump where you jump the 192 metres straight off Sky Tower!
For your holiday to Auckland, book your cheap flights from Webjet today and save!
Webjet's Destination Guides