Webjet's Destination Guides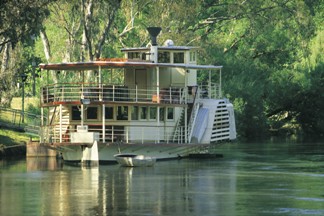 Albury offers many experiences to soothe the spirit and delight the eye. Situated on the banks of one of the world's great rivers, The Murray, and surrounded by enormous beauty and diversity, the Albury Wodonga region is wonderful to explore, there is something here to suit everyone.
Fertile fruitbowl country
Located in the fertile Murray Valley, Albury Wodonga is the hub of one of the richest and most diverse areas of primary production in Australia. Foods are varied, unique and abundant. Whether your taste in dining is haute cuisine, contemporary cafe, club or pub, you will be delighted by the range of eating experiences available, using a range of fresh local produce, and complemented by the internationally renowned wines of the region.
Botanical Gardens and Lake Hume
Albury has broad tree-lined streets, interconnecting walking and cycling tracks and many areas of parkland to provide peace and relaxation. The Botanical Gardens are world class, there are three penguin parades every day and nearby Lake Hume, with a capacity six times that of Sydney Harbour, boasts a kilometre of shoreline for every day of the year.
Golf and water sports
There are first class venues for all sports, including some spectacular golf courses. Water sports abound in the region with fantastic water skiing, canoeing, fishing and swimming or take the opportunity to explore spectacular Lake Hume
Flying Fruit Fly Circus
Be moved by HotHouse Theatre, the only professional theatre company in Regional Victoria, and marvel at the skills and grace of the Flying Fruit Fly Circus. Enjoy live music at a cafe, a pub or concert venue, or discover local culture and history through the many galleries and museums of the region.
Book your next cheap airfare to Sydney, Australia with Webjet and save.