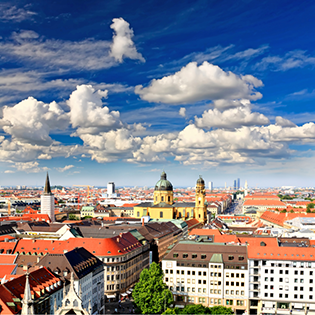 Heading to Munich? Weigh up your options with our deal finder and compare cheap airfares across leading airlines and low-cost carriers
Whether you're travelling with flexible dates or have fixed dates set in mind, use Webjet's travel tools to weigh up your options and secure a great rate on cheap flights to Munich.
Choose from airlines including Emirates, Qantas, Virgin Australia, Thai Airways, KLM, Singapore Airlines, China Southern and more, and snap up a cheap airfare to Munich, Germany.
Travelling to Munich, Germany
Capital city of Bavaria, Munich is Germany's third-most populous city. Famed for its beautiful architecture, and the annual Oktoberfest celebration, which sees visitors from around the world visit to don lederhosen and drink beer in the popular European city.
Visit the German Museum and trace back the nation's rich history - from its technical achievements which still mark Germany as one of the world's industrial leaders, to exhibits devoted to science and technology, atoms, windmills and even lifeboats. Munich's Jewish Museum tells another side of the city's history, tracing back Jewish voices, history and identity and touching on the widespread effects of the Holocaust.
Munich is also home to an array of accommodation options, from youth hostels around the incredibly well-located Munich Central Station to upscale hotels and luxurious self-contained stays in the inner city areas of Munich.
Book with Webjet.co.nz
Enjoy safe and secure transactions and receive instant confirmation with every booking you make with Webjet. Our New Zealand site is dedicated to our New Zealand customers, sourcing you the best deals since 2004.
If you need to alter your booking at any time, booking changes are available online with Webjet 24/7. There are no extra fees for changes and cancellations made with Webjet online. For any other enquiries, please contact support.
Cheap Flights on Webjet
Webjet Top Airlines