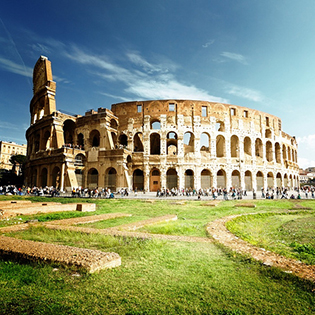 Book cheap flights to Italy
Use Webjet to take a look at the cheapest flights to Rome, whether you're booking last minute flights to Europe or hoping to secure a cheap early bird rate ahead of peak travel season.
Choose from airlines including Etihad, Lufthansa, Cathay Pacific, Emirates and more, and find a seat to suit you best. With a range of economy, premium economy, business and first class fares available, you might be able to score a reduced rate on an upgraded fare too.
Choose from flights to Rome available across a range of international airlines and head to Italy's most accessible international air hub. For even more flights to Italy, use Webjet's search tools to find even more airfares across the country including Milan.
Travelling to Italy
Unlike most other European travel hubs, Italy has the advantage of being primarily surrounded by water. From Rome, Venice, Milan, Florence and Naples, almost always at the top of visitor's travel checklists, to understated spots including Turin, Palermo and Bologna, Italy is brimming with vibrant destinations worth a visit.
Take a look at Webjet's Rome travel guide and head to the gateway to some of Italy's most iconic sightseeing, famed outer regions and dining precincts. The food-obsessed Italy is a fantastic place to get your pasta or pizza fix, and as the birthplace of the Renaissance there's no shortage of historic architecture to explore.
Book with Webjet.co.nz
Enjoy safe and secure transactions and receive instant confirmation with every booking you make with Webjet. Our New Zealand site is dedicated to our New Zealand customers, sourcing you the best deals since 2004.
If you need to alter your booking at any time, booking changes are available online with Webjet 24/7. There are no extra fees for changes and cancellations made with Webjet online.
Cheap Flights on Webjet
Webjet Top Airlines