Air New Zealand
Make your own way in the world
Superior Selection
Easily find the best travel deals
24/7 Support
Customer service available
Anytime, Anywhere
Visit us on desktop, mobile or app
Air New Zealand Online Check-in
Air New Zealand Hot Deals
*Prices on this page are subject to change without notice, perform a search to view live pricing. Prices are inclusive of taxes and airline surcharges. Webjet fees per flight booking: Webjet Servicing Fee: Domestic $10.95, AU/Pacific $18.95, International $33.95. Booking Price Guarantee: Domestic $8.95, AU/Pacific $10.95, International $17.95. Varying payment fees are included in the price breakdown on Webjet's checkout page, once your payment method has been selected.

Air New Zealand flies between Christchurch, Auckland, Wellington and Melbourne, Sydney, Brisbane, Adelaide, Perth and other regional cities. As well as offering flights to the Pacific Islands, North America, Asia and the UK. Book your next Air New Zealand flight with Webjet, your best choice for discount flight fares.
Experience Air New Zealand's world-class service
Awarded ATW Airline of the Year 2010, Air New Zealand will help you re-discover the pleasure of flying. Air New Zealand's award-winning service is designed around the standards of the finest hotels; ensuring comfort and service is of the highest standard. Enjoy the luxurious, quiet, relaxed spaciousness that lets you arrive refreshed and ready for the day ahead without breaking your budget.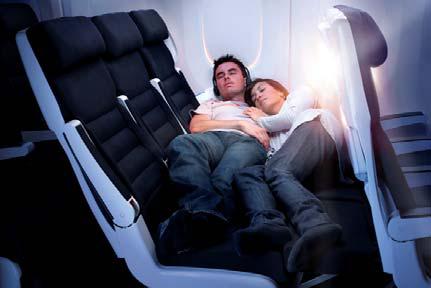 Lie-flat in Economy with Air New Zealand
In January 2010, Air New Zealand released to the world what some have described as the holy grail of economy travel – a lie flat economy surface. Called the 'Skycouch', Air New Zealand's new Boeing 777-300ER aircraft will offer this innovative option to economy passengers from Dec 2010, by way of three economy seats engineered to create a single lie-flat space from seat-back to seat-back.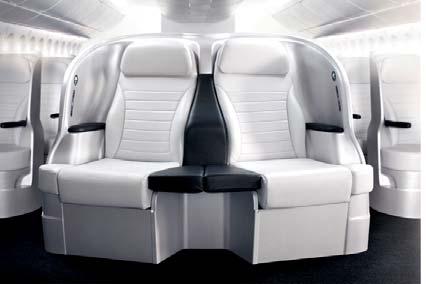 The new cabin product will also feature the "SpaceSeat" a new and enlarged premium economy seat, in a dedicated cabin. SpaceSeats have been created with a focus on an "enhanced sleep experience".
Air New Zealand - Where culinary delights await you in the air!
Picture yourself flying in truly comfortable seats with ample leg room and dining from menus created by world-renowned chefs. Air New Zealand recognizes that relaxing over a sumptuous meal is one of life's true pleasures. As such, every meal served is created with care and reflects the fresh, innovative cuisine of New Zealand.
With the introduction of new oven technology, Air New Zealand's culinary options have just been greatly enhanced. Rather than being constrained to reheating meals, this new technology allows for dishes to be created and cooked from scratch.
In-flight entertainment - Air New Zealand style
As you finish your dessert, enjoy the wide range of in-flight movies and radio programs as well as the complimentary copy of Air New Zealand's very own in-flight magazine filled with interesting tips on your destination.
It's only a glimpse of what's on offer on Air New Zealand.
Book Cheap Flights with Air New Zealand at Webjet and save!!
Cheap Flights on Webjet
Webjet Top Airlines
*Prices are subject to availability, include taxes and airline surcharges. All prices on this page are subject to change without notice. Whilst Webjet makes every effort to provide you with accurate and up-to-date information, in the event a product is listed at an incorrect price, whether due to typographical, photographic, or otherwise, Webjet may refuse or cancel any orders placed for a product listed at the incorrect price.